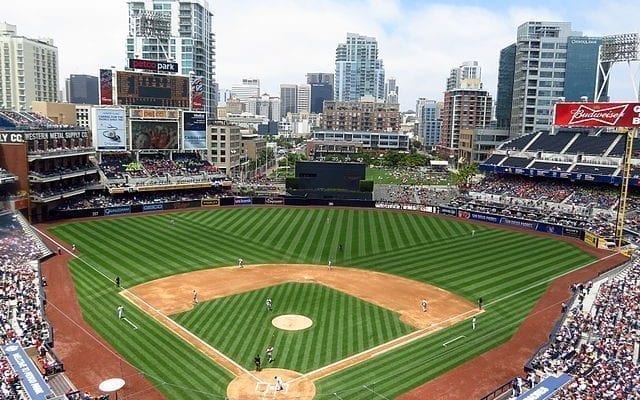 Petco Park by Red Legs Fan via CC 2.0
Entertainment & Events
10th Annual Phil's Big BBQ at the Ballpark on July 29
By
|
Supporting Operation Bigs, a mentoring program of Big Brothers Big Sisters
On Sunday, July 29th from 10:30 am-1: 00 pm, Phil's BIG BBQ will offer a fun-filled event supporting Big Brothers Big Sisters of San Diego at Petco Park's North Tailgate Lot on 14th & K St. After the event, attendees will enjoy tickets to the San Diego Padres vs. Arizona Diamondbacks game.
In 2017, Phil's Big BBQ at the Ballpark raised nearly $80,000 with 2,600 attendees. Phil's BBQ donated 100% of all proceeds to Operation Bigs. On July 29th, 2018 Phil's will fire up the grills for the 10th Annual event as the San Diego Padres take on the Arizona Diamondbacks, with the goal of raising $100,000 to support local children and families.
Participating attendees can fill up on Phil's mesquite-grilled chicken and ribs and take in a Padres game, all to benefit Operation Bigs. Phil's Big BBQ is one of Southern California's largest tailgate parties complete with a beer garden, photo booths, live music and a kids zone. Guests will enjoy Phil's Ribs and Chicken plus two sides, Coca-Cola beverage, and a ticket to the 1:10 p.m. Padres vs. Arizona Diamondbacks game. There is also a VIP package option, which includes all of the above plus two beers, VIP area with shaded seating and direct bar access, priority food line, and a voucher for a free soda & hot dog, or soda & snack in the ballpark. Regular tickets can be purchased for $25 each (includes meal and game ticket), VIP tickets can be purchased for $60.
100% of each ticket benefits Big Brothers Big Sisters' Operation Bigs, military mentoring program. Big Brothers Big Sisters of San Diego County's Operation Bigs is a one-to-one mentoring program for military children, the first of its kind in the nation. Mentoring provides an extra layer of support to local military families. The military lifestyle often presents many challenges for children and families such as frequent relocation, school transitions, separation from extended family, increased responsibility coupled with a sense of loss when a parent deploys and the physical and psychological stress faced when a parent returns from war. The program joins children with parents in the military to volunteer "Bigs" who are in the military, retired or civilian.
San Diego County is home to the largest concentration of military activity in the world with 137,000 active duty military personnel, 230,000 veteran residents and the largest discharged Operation Iraqi Freedom and Operation Enduring Freedom (OIF/OEF) veteran population in this Nation, with about 38,000 recent war veterans (9% of discharged recent warriors).
Additionally, the San Diego Bay is the principal home of the U.S. Pacific Fleet, and all SEALs get their initial training at the Navy SEAL command in Coronado. About one-quarter of the Marine Corps are stationed in San Diego County, with an infantry division at Camp Pendleton, an air wing at Miramar Marine Corps Air Station and one of the Corps' two boot camps off Pacific Highway.
In an effort to serve this population more effectively, Big Brothers Big Sisters of San Diego County designed the Operation Bigs program, which provides mentors to children of military families through BOTH Big Brothers Big Sisters' Site-Based program and Community-Based program. Since the launch in 2004, it has served more than 1,800 Navy and Marine Corps children at 8 sites throughout San Diego County and inspired the expansion of over 30 sites across the country. The need for caring, committed mentors to support the children of those who defend our country remains urgent.
Tickets can also be purchased through the Big Brothers Big Sisters website and at all Phil's BBQ locations:
Point Loma – 3750 Sports ArenaBlvd, 92110
San Marcos – 579 Grand Ave. 92078
Santee – 9816 Mission Gorge Rd, 92071
Rancho Bernardo – 17051 W Bernardo Dr, 92127
Ticket Options:
Standard Ticket: Each $25 ticket includes Phil's "Best of Both" chicken & ribs, two sides, a Coca-Cola beverage, access to the tailgate party, Beer Garden and Kid Zone, Live Music (featuring the Morgan Leigh Band), AND a ticket to the Padres game.
VIP Option: Each $60 ticket includes all of the above, plus upgraded Padres tickets, 2 drinks (beer, mixed vodka drink or soda), VIP entrance, priority food line, VIP seating area with bar access and a fountain drink and candy or popcorn at the game (a $90 value!).
Sponsor a "Big" and "Little" to attend: Your $50 Donation will allow a Big and Little Brother or Sister to attend this event for free! And you will receive a tax write off for your generous donation.
For Sponsorship information, contact: Talia Hazard at TaliaH@SDBigs.org or (858) 746-9116.