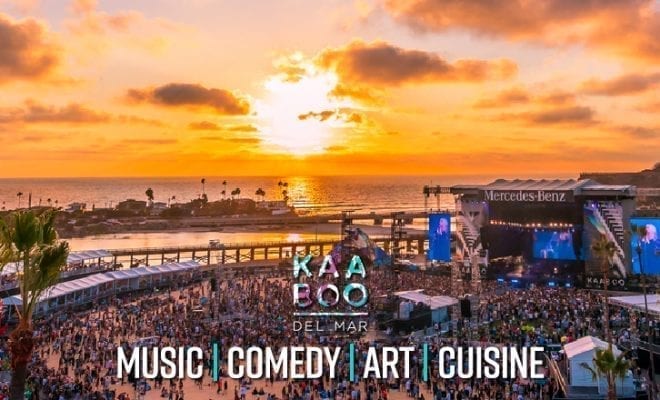 Courtesy of Shelly Reed
Entertainment & Events
The Discovery Tour Comes to San Diego
By
|
The Discovery Tour: Winners Perform Alongside Big Names at KAABOO Festival
The fourth annual KAABOO Del Mar is almost here. The highly anticipated event, set to take place at Del Mar Racetrack and Fairgrounds in San Diego on September 14-16, 2018, has gone to great lengths to make sure that each attendee feels spoiled and is treated to a hospitality-driven experience that engages all five senses.
At the multi-day annual events, guests enjoy a world-class music and Humor Me comedy lineup; an onsite Contemporary Art Fair in artwork, plus a display of outdoor murals and installations; gourmet food and craft libation tastings; a Las Vegas-style day club called Bask, plus spa and relaxation services at Indulgences. KAABOO Del Mar overlooks the Pacific Ocean and enjoys the pristine weather, ocean breezes, and numerous easy to access lodging options.
This week, it's also likely that you've seen KAABOO's name across local venue marquees and calendars because their annual Discovery Tour just kicked off. The tour gives local Southern California musicians and comedians a chance to perform alongside previously announced music and comedy acts in the lineup – including Foo Fighters, Imagine Dragons, Katy Perry, Robert Plant & the Sensational Space Shifters, Craig Ferguson, Iliza Shlesinger, Nick Offerman and more.
More about the Discovery Tour
The tour, which kicked off in June at Moonshine Beach, includes three music venues and one comedy club in San Diego. At each location, performers compete to win audience votes, earning them a coveted spot on stage at KAABOO. This Monday, Sitting on Stacy — a Ventura-bred rock trio with Demorest on drums, Kyle Hart on bass and Hoyt Yeatman on vocals and guitar — was announced as the initial winner of the first Discovery Tour stop.
The final music stop will take place at Quartyard on Friday, August 10th, SweetTooth, Sophia Dion, Desert Rhythm Project, and Nick Crook will be performing. On Sunday, July 29th, comedians will battle it out for a slot at KAABOO at the American Comedy Co.. Details and ticket links can be found here. Make sure to check out the Tourmaline Stage and Humor Me at the festival to see these bands and many more local acts.