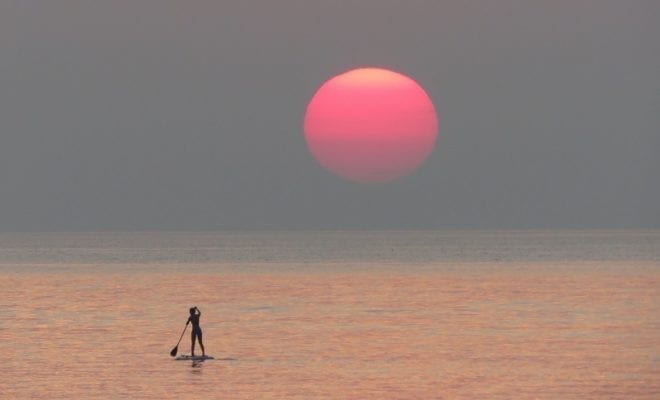 Entertainment & Events
Panda Paddle: WWF's Stand Up Paddle Boarding Event This Weekend
By
|
World Wildlife Fund (WWF) is making waves this fall with the organization's first-ever athletic, peer-to-peer fundraising event, Panda Paddle. The standup paddle boarding event, sponsored by Target, will take place in San Diego's Mission Bay this Saturday.
Building upon WWF's over 50 years' experience addressing the planet's interconnected challenges, Panda Paddle blends a world-class stand-up paddle competition with a world-changing cause: protecting the natural world and all it gives us.
"Panda Paddle is an invitation for participants to race in nature, for nature and compete to conserve," said Jon Cass, manager of peer-to-peer fundraising at WWF. "Panda Paddle will reawaken a personal relationship with the natural world and offer an experience so much more than open waters, blue skies and coastline – participants will discover their own power to protect and preserve the planet."
Panda Paddle's courses are designed and directed by SUP legend Anthony Vela. Participants can choose between a 10K solo endurance challenge or a 5K course that can be done individually or as part of 2-person or 4-person relay teams.
"Standup paddling is the fastest growing water sport in the world. Having myself paddled in over 200 events all over the world; in rivers, lakes, harbors and in the open ocean, I feel a deep connection to the sport and the waters we race in. It is an incredible opportunity to come together to conserve the planet that we love," says Vela.
From experienced athletes to first-time paddlers, to join the Panda Paddle movement participants will need a passion for conservation and a respect for the natural world. Paddlers will channel their energies equally into fundraising for WWF and paddling for the finish line. A land-based festival will coincide with Panda Paddle, offering music, food, and interactive experiences for the entire family.
"Individually, we'll get on boards. Together, we'll take a stand," says Cass.
Musician Tristan Prettyman to headline at Panda Paddle
Local San Diego singer-songwriter, Tristan Prettyman, has joined forces with WWF to perform at their upcoming fundraiser Panda Paddle at Bonita Cove.
When describing her passion for nature and desire to support WWF, Tristan quotes environmentalist John Muir:
'"The clearest way into the Universe is through the forest wilderness,' says Muir. For me, any excuse to get outside in nature is a good enough reason for me. I am honored and extremely excited to join forces with WWF for the upcoming Panda Paddle in my hometown of San Diego. It's going to be great day, spent outside in the So-Cal sunshine. I cannot wait!  Please come out and join us!"  
Want to see Tristan perform? Be the paddler nature needs by signing up for Panda Paddle. Not able to paddle? That's okay! The performance is open to all residents who come out in support of WWF.  Tristan's performance is scheduled to occur after the paddle boarding races are complete in the afternoon on Oct. 20 at Bonita Cove in San Diego.  
To learn more about Panda Paddle and sign up for the event, click here.