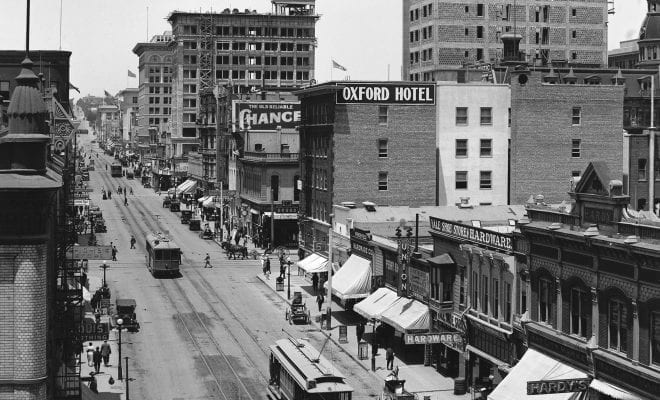 5th Street from G - 1912
Entertainment & Events
Looking Back: San Diego's 250th Anniversary
By
|
The year 2019 marks San Diego's 250th anniversary, giving us the opportunity to reflect back on our past and imagine our future. While it would take a library full of lengthy books to capture to rich and diverse histories of San Diego, here is a snapshot of a few pivotal moments in our city's history.
The Beginnings of Modern Day San Diego
Though the Kumeyaay people lived in the area for thousands of years, San Diego as we know it today began on July 16, 1769. Before that, according to the San Diego History Center (SDHC), "The Kumeyaay ranged from modern-day Oceanside south to Ensenada, Mexico; and from the Pacific coast to the desert and today's Salton Sea. They cultivated plants and created astronomical observatories, and their knowledge benefited the Spanish who relied on their help to navigate and to survive." On July 16, 1769, Spanish friars Father Junípero Serra and Father Juan Crespí founded the Mission Basilica San Diego de Alcalá, the first major mission in California.
In 1775, SDHC shares, "the Kumeyaay revolted, burning the San Diego Mission and killing Father Luis Jayme and two soldiers. Later American rule resulted in eviction from their native lands and establishment of the reservation system. Today's Kumeyaay continue to be a part of our region's cultural fabric, and San Diego County has more Indian reservations (18) than any other county in the United States, including not just the Kumeyaay but Luiseño, Cahuilla, Cupeño, and Diegueño."
In 1822, the Mexican flag was raised over the Presidio, making San Diego part of Mexico. In 1835, San Diego officially became a town, but the status was revoked in 1838 when San Diego's population dipped below 150. Instead, until the Mexican War in 1846, San Diego was considered to be a part of Los Angeles. When the war ended in 1848, California, including San Diego, was admitted to the United States as the 31st state.
Then came a man who would become known as the father of San Diego. This was real estate developer Alonzo E. Horton, who began developing San Diego three miles south of Old Town in 1867. According to San Diego's Gaslamp Quarter Historical Foundation, Horton purchased "960 acres of land on San Diego Bay for just 27½ cents an acre." That area came to be known as New Town, and it had great success attracting new businesses. Horton also reserved land to create a public park, then called City Park and now called Balboa Park. Aside from development endeavors from people like Horton, the Santa Fe Railway's arrival in 1885 also helped boost the San Diego's growth. According to the SDHC, "The city's population grew from just over 2,600 in 1880 to an estimated 35,000 in 1887. Boosters and businessmen built vital infrastructure, including telephone, gas (SDG&E), and water systems."
San Diego in the 1900s
Once the Panama Canal opened in 1914, San Diego became a robust shipping hub. After the opening, San Diego held the Panama-California Exposition for the two years of 1915 and 1916, transforming "City Park." From the SDHC, "The Cabrillo Bridge at El Prado welcomed guests who explored exhibits, an aviary, rose garden, animal pens, and the Spreckels Organ Pavilion, the world's largest outdoor pipe organ. Despite the intention to build much of the venue as temporary structures, many remain and Bertram Goodhue's Spanish Colonial architecture forever defines Balboa Park." After the Exposition, the tourism industry continued to develop. "Concerned about the fate of the animals featured at the Panama-California Exposition, brothers Harry and Paul Wegeforth launched the San Diego Zoological Society in 1916. The city's promotion of tourism is also evident in the development of Mission Bay. A 1958 master plan paved the way for boat launches, beaches, playgrounds, hotels, and other recreational amenities."
San Diego's 250th
Those interested in exploring San Diego's past have a unique opportunity in 2019, when the city commemorates its 250th anniversary. At a civic ceremony on July 16, guests and officials will gather in Presidio Park to honor the city's past and look toward its future. This event will last from 5:00 to 8:00 PM, and it will include the dedication of a new Kumeyaay flag and tours of the Junípero Serra Museum.
Another option for history lovers, no matter the time of year, is the San Diego History Center. Located in Balboa Park, the center is open from 10:00 AM to 5:00 PM daily, telling the region's stories and shared histories.