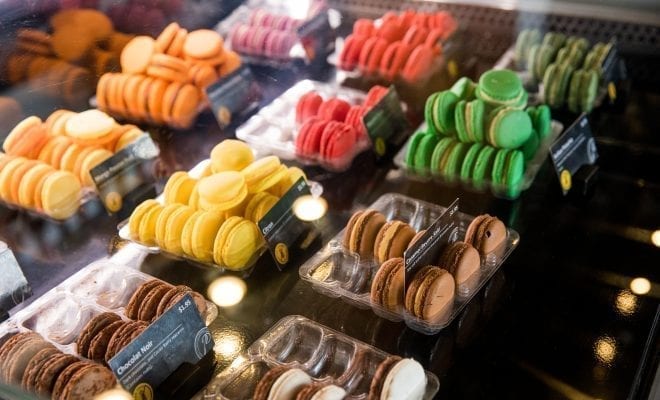 Entertainment & Events
Kick off Summer 2019 with an Edible Excursion with the Taste of Gaslamp!
By
|
The Gaslamp Quarter is becoming widely known for its incredible food, bustling nightlife, and diverse culture. With so many options for your next meal out, it can be a difficult choice to pick just one! Lucky for you the 25th annual Taste of Gaslamp presented by Karl Strauss is back so you can savor in 25+ options of delectable dining all in one day on June 15th from 1:00 pm to 4:00 pm to indulge your cravings! Don't miss the chance to sample bites and sips on a self-guided tour of the Gaslamp Quarter's best and most notable bars and restaurants! Sink your teeth into these 5 exciting reasons why the 2019 Taste of Gaslamp is the must-attend foodie event of the year.
Find Your Next Favorite Spot
With the Taste of Gaslamp, there is no doubt that you are destined to find your next go-to establishment! This appetizing self-guided stroll is known for its scrumptious food offerings that will have you running back for years to come! Taste your way through tried-and-true favorites and new restaurants you've been meaning to try! Find your perfect place with no commitment to a restaurant or menu!

Experience the Diverse and Thriving Gaslamp Quarter Culinary Scene
Whether you're looking to try a new restaurant, cuisine, or you're just craving a mouth-watering meal, this enticing day of dining is the perfect time to take a culinary tour throughout the diverse and thriving edible culture of the Gaslamp Quarter! Step out of your comfort zone and try something new from the 25+ restaurants and bars offering up their best bites and sips! There is no set direction for this delicious event, just let the good bites and sips take you to your next desired location.

There's a Beer Garden!
All that grub leaving you thirsty? The picturesque Beer Garden presented by Karl Strauss is back for its second year in a row located in the Historical Foundation's Davis Park! Let your stomach settle with exquisite sips and rest your feet for even more tasty tastings! The Beer Garden will be open to guest 21 and older throughout the event.
A Beloved San Diego Tradition
Taste of Gaslamp traces back to 1993, where it had just started as an intimate dinner party at the historic Yuma building with gourmet guest chefs, their food and fine wines. Today, the Gaslamp Quarter and its notable collection of restaurants have gone to great measures to continue adding new exciting features to make this an enjoyable (and appetizing) event for the whole community. The longevity of the event that has made this culinary tour a true tradition in the historic heart of San Diego.
Perfect Way to Celebrate Father's Day
What better way to celebrate than with a self-guided tasting tour? Dad deserves something more than a new tie and golf balls this year! Luckily, you can never go wrong with… FOOD! Gather your father, friends, family, and fellow foodies to embark on the tasting tour of a lifetime you won't want to miss!
Tickets for the culinary Taste of Gaslamp tour begin at just $35 for General Admission and increase to $45 the day of the event. For the ultimate foodies out there, upgrade to VIP for just $65 ($75 day of) and receive access to an additional six VIP restaurants complete with a larger bite and cocktail (21+ only).
---
Participating Restaurants:
American Junkie
Barleymash
Brian's 24
Café Sevilla
The Dive SKC
The Dubliner
El Chingon
The Field Irish Pub
Gaslamp Fish House
Havana 1920
Henry's Pub
Machu Picchu
Mattarello Cooking Lab
Meze Greek Fusion
The Morning After
Patron's Corner
Royal India
Side Bar
The Smoking Gun
Soleil @ K
Theatre Box – Sugar Factory
Tin Roof
Tocaya Organica
Tropical Savor Bar and Grill
Vybz
Whiskey Girl

VIP Restaurants
Callaway Winery
Fogo de Chao
Lou & Mickey's
Searsucker
STK San Diego
Volcano Rabbit

For more information or to purchase tickets, please visit www.tasteofgaslamp.com or call 619.233.5008.