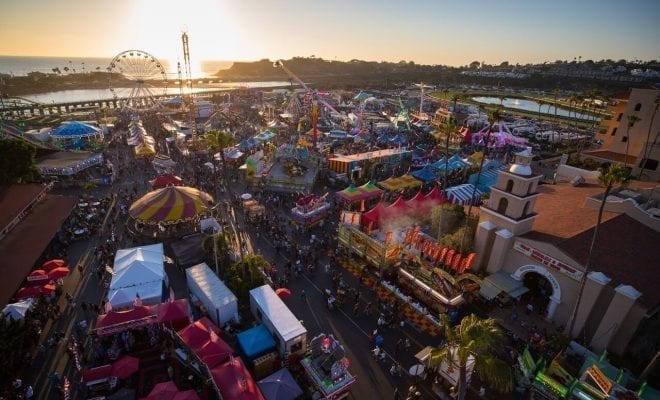 Entertainment & Events
Everything You Need to Check Out at the San Diego County Fair
By
|
The San Diego County Fair is in full swing now, and if you're planning on visiting soon, here are the things you absolutely need to check out!
Food
Let's be honest, the best part of the Fair is the food, hands down. The fair is every foodie's dream come true, with a seemingly endless selection of indulgent treats and savory meals, it makes your head spin. While of course there are the usual Fair offerings, there are some new selections you should keep your eye out for.
Emerald City Fire Burger at Grant's Tasty Burgers
Over The Rainbow Summer Salad at the Emerald Farms Eatery
Yellow Brick Fudge Slice at Mackinac Island Fudge
Wizard of Oz Waffle Pizza at Pignetti's Pasta Italian
Scarecrow Dog at Pink's Hot Dogs
Emerald City Limeade at Sunset Grill
Flying Monkey Wings at Wood Pit BBQ
Auntie Em's Brownie at Mom's Chocolate Chip Cookies
Blizzard of Oz frozen hot chocolate at Crutchees Cream
OzSome Avocado Toast at Ten Pound Buns
A whole lot more!
There are also several restaurants and bars among the fairgrounds. These include:
Paddock Tavern – located on the east side of the Paddock. Serving sandwiches, salads, craft beer and cocktails.
17 Hands Restaurant and Cantina – located between Plaza de Mexico. Features 20 taps of local craft beers along with a full bar
Emerald Farms Eatery – located in the Paul Ecke Jr. Garden Show.
Wizard of Haze – Located in the center of the Fair. This large bar features a craft beer brewed specially for the Fair, from Mike Hess Brewing Co.
The Wick Wahine – This speakeasy rooftop bar is located by Ballast Point and Moon Valley Nurseries, featuring craft cocktails and incredible views of the entire fairgrounds.
Don't forget, every Thursday from noon to 5:00 PM, vendors will offer a small portion of one of their featured foods for $3.00. This is perfect if you're wanting to try out a wider variety of options or just want a little snack to get you through the afternoon.
Concerts
There is a massive lineup of incredible artists performing throughout the fair's duration. With musical performances ranging from rock and country, to hip-hop, EDM, and even comedians, there is something for everyone. Some standout performers include:
Simple Plan
truTV Impractical Jokers
Lindsey Stirling
Pitbull
Trace Adkins
NRRD
DJ Tigerlily
145th Street
Entertainment
There are plenty of fun experiences to be had at the SD County Fair. ALong with incredible food and live music, you can also check out a variety of contest, art exhibits, petting zoos, and more!
Check out some of these rad events: