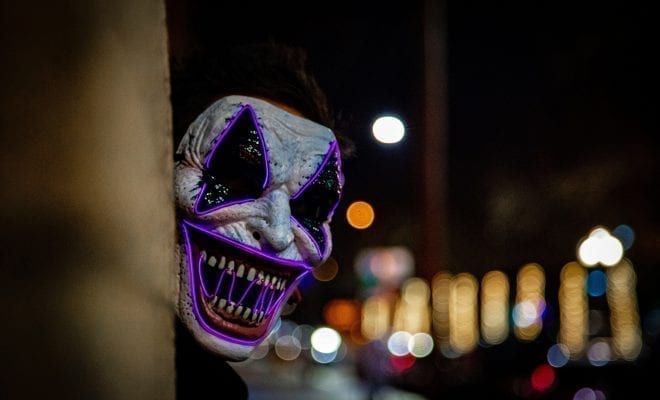 Entertainment & Events
11 Funny and Creative Halloween Costume Ideas
By
|
Halloween time is your chance to show off your creativity and sense of humor with a killer costume. You've probably seen a few people pull off some pretty spectacular costumes in the past, so this year, it's time for you to turn heads with your Halloween get-up. If you need a bit of inspiration, here are some funny and creative ideas to help you out. 
A blind pilot
Is there anything scarier than a blind pilot? Well, maybe, but this costume is the perfect mix of humorous and scary. Plus, it's super simple, requiring little preparation. Throw on some black slacks, a white shirt, and black tie, and throw some lapels on your shoulders. Don a pair of blackout glasses and grab a cane, and you're on your way to score some laughs. 
Jack and Sally
The titular duo from the classic Nightmare Before Christmas can be a great costume idea whether you're going solo or with a partner. Make sure you spring for some quality makeup and match the characters' signature clothing. 
Stranger Things
One of the best shows out has strong ties to Halloween, with the characters in Stranger Things taking their costumes very seriously. I mean did you see their Ghost Busters get up? Do them proud by pulling off your best Stranger Things costume, plus you have a solid variety of choices. Want to be Eleven? Pink nightgown, blonde wig, a box of Eggos, and a bloody nose. Fancy being Hopper? Cop costume, fake belly, and a cigarette. Boom. 
The Addams Family 
A classic costume choice, you can't go wrong with dressing up as one of the Addams Family. The possibilities are extensive, and are simple enough that you won't be scrambling around to find the necessary pieces. Bonus points if you go out as a group with the complete family.
Sims character
If you grew up playing (or still do, no shame in that) The Sims, you know what happens when, ahem, they get frisky. Maintain your dignity while paying homage to this classic game as you head out in all of your pixelated glory. Don't forget the gem headpiece!
Georgie from IT
Pennywise is bound to be way overdone this year, so break the mold and show up as poor lil' Georgie instead. Buy a yellow rain slicker, blow up a red balloon, make a paper boat, and throw on some pale face paint and you're good to go. You can even go the extra mile and go out with a faux missing arm if you're feeling wild.
Grease
Look, you can't get more classic than going as a Greaser. Channel your inner Sandy or Danny Zuko with this timeless look. Slick back your hair and break out the hairspray, leather jackets, and red lipstick for an effortlessly cool look. 
Social Butterfly
Ah yes, we love a good pun costume. Bound to net some "ah hah!" reactions, head out as a Social Butterfly by taping photos of the six big social networks, then don some butterfly wings to complete the look.
Sea Anemone
This one is perfect when you're in a pinch for a last-minute costume but still want to turn heads. Blow up a bunch of pink balloons and attach them to a pink shirt by knot with a safety pin. It's worth it alone getting to hear drunk Halloween partiers attempt to pronounce 'anemone.'
And That's the Tea
Kermit the Frog is the centerpiece of one of the best memes of the decade, and this meme-inspired costume is sure to draw some chuckles wherever you are. All you need is a green shirt, a felt cutout for the collar, a sign, and a glass with tea.
Brawny Man
Another super simple costume ideas, you'll have to turn on the charm as thick as possible. Throw on a red flannel with a pair of jeans and a roll of paper towels. See someone accidentally spill their drink? Boom, you're the hero of the hour.