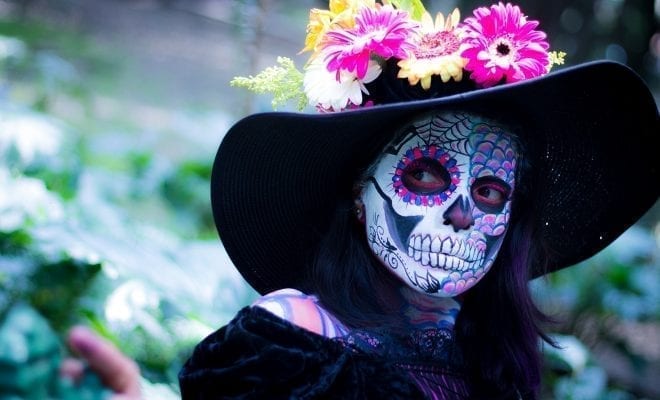 Entertainment & Events
Dia de Los Muertos: San Diego Edition
By
|
Day of the Dead, also known as Dia de Los Muertos takes place this year from October 31st through November 2nd, with the celebrations going until November 4th. Day of the Dead is a Mexican celebration that originated in the Central and South regions of Mexico that honors friends and family who have passed on guides them on their spiritual journey. The dates correspond with All Saints' Eve and All Souls Day. Common ways to honor the dead involve cooking the favorite foods of the person who passed, bringing gifts to their grave sites, and leaving personal possessions. San Diego is celebrating those who have left and is participating in the Day of the Dead celebrations by honoring loved ones with quality time and fun events for the whole family.
Dual Top Chef Dia de los Muertos Dinner at El Jardin
Calling Top Chef Fans! Executive Chef Claudette Zepeda-Wilkins of El Jardin and Chef Joe Sasto, both from the recent season of Top Chef Colorado, are coming together for one night on November 1 to cook an epic Dia de Los Muertos celebration. Together, they'll share their most nostalgic food memories of their loved ones for guests. Both chefs will collaborate on a dish together, as well as reinterpret flavors of their favorite dishes – Chef Claudette taking inspiration from her grandmother, and Chef Joe, his mother's dishes. For $80 per person, guests will delight in a full six-course meal at the stunning recently opened El Jardin in Liberty Station. Optional wine pairing available for $45 per person. Dinner reservations begin at 5 p.m. – 10 p.m. Reservations required, so make yours now. 619-795-2322
Dia de Los Muertos at the San Diego Zoo Safari Park
The San Diego Zoo Safari Park will be kicking off DOTD celebrations starting at November 1st through the 4th with face painting, mariachi music, dancing, and all of your favorite animals. There will be a bilingual Frequent Flyers show with all of your favorite birds starting at noon. The Africa Tram tours will be presented in Spanish at set times, and there will be special food and drinks available at the Samburu Terrace restaurant including; tacos, margaritas, and churro ice cream.
This Old Town event will celebrate DOTD embracing traditions. There will be interactive activities and entertainment for the whole family to enjoy, along with face painting, arts and crafts, and dancing. You can also partake in the costume contest, live music, all while getting a Tour of Altars. On November 2nd the candlelight procession will take place, and will bring the community together as one as you enter into the El camp Santo cemetery. The official event is Nov 1 – Nov 4 at 11:00 AM – 8:00 PM. 
Day of the Dead at Bazaar del Mundo
Starting on November 1st through November 3rd, Casa Guadalajara will be transformed into a beautiful artisan marketplace with merchandise from Bazaar del Mundo along with face painting, delicious bites, and holiday food specials.
Locals will discover the various artworks including Día de Los Muertos inspired pieces. Don't miss the opportunity to join in on in free family-friendly activities that include sugar skull decorating, mask making, painting and more. Throughout the 3 day celebration, there will be live Ballet Folklorico performers who will be sporting their skeleton-painted faces, along with other performances that will honor those who are being celebrated at  Dia de Los Muertos.
Carrera de Los Muertos San Diego 5k or 10k Run
On November 4th, participate in a 5k or 10k along the San Diego Bay and celebrate afterward in Embarcadero Park South with live music, dancers, and delicious food. Invite family and friends to come out and remember those who have passed while learning more about the Mexican culture and DOTD. The cost to be a part of this event is $10 and remember to be there at 6:45 am.