Entertainment & Events
Comic-Con 2018 Recap
By
|
Comic-Con has evolved greatly over the years. Comics might have been what started the phenomenon, but it's morphed into pop culture central; exhibits, movies, TVs, props, games, after hours parties, and so on.  In the last few years, it has added talk shows and virtual reality (VR).  Interactive fan experiences continued to be elevated.  Massive sets are built around the convention center to facilitate experiential marketing (activations with chipped wristbands), providing badge-holders and general public alike immersive entertainment.
This year's notables were Jack Ryan, DC Universe, Marvel's Cloak and Dagger, FX American Horror Story and Legion, to name a few.  VR even had its own center, Future Tech Live.  Companies hosted their own activities, such as Overwatch, Hologate, and Star Wars The Jedi Challenge.
Jack Ryan
(premiering on Amazon Prime Video on August 31, 2018)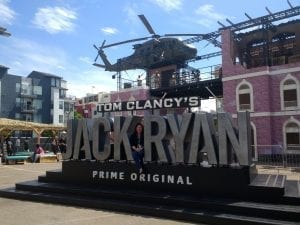 undoubtedly took the top spot.  Amazon Prime Video went all out.  The set pieces included a Yemen bazaar (a bustling market displaying spices, snacks, fabrics and wares), a three-story building structure, a helicopter, a zip line and an escape room.  Jack Ryan is a CIA analyst tasked to retrieve key intelligence and thrust into the field.  He doesn't have a field operative training.  Visitors got to experience what's like to be Jack and learn how to survive.  Due to time constraint, I didn't get to do the escape room, but I had the privilege to do the best aspect of the Jack Ryan experience.
Jack Ryan took the experience to a whole new level.  Each visitor entered his or her personal information and received a personalized ID card as an operative.  The field training equipped visitors with harness, gloves, protective shoe covers and motion sensors. Atop the three-story structure, visitors were expected to repel down to the second level, cross a plank on the floor to the other side of the building, search for and retrieve clues inside the room, zip line to the ground, step into a hydraulic car, steer and get jerked around, and complete the mission.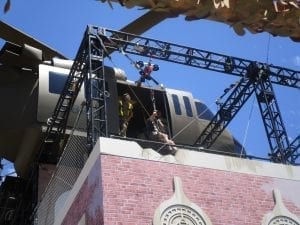 I can tell you it's unlike anything I've ever experienced and I've done all kinds of VR activities and simulation rides.  What's unique about this is that it's 'hyper-reality.'  Unlike simulator rides in amusement parks, I wasn't sitting down.  The physical aspects of what I was doing in the real life (walking, ducking, crawling, repelling, zip lining) were incredibly augmented through the VR goggle, giving a feeling as if I was a field operative in a combat zone or battlefield like in the virtual world.  What's most surprising is that the most nerve-wracking part wasn't the repelling or zip lining; it's the crossing of the plank. I heard other people feel the same way.
In my head,  I could see an image and movement of a wobbly, broken wooden plank suspended between two sides of the building in a hostile territory.  I was hearing noises all around me and was shot at.  The scary sensation felt inexplicably and utterly real.  My heart was beating so fast and I was sweating bullets.  Even cooler, the activity was live-streamed through Twitch, an interactive game where gamers around the world could throw obstacles at in real time.  It's a total heart-thumping, multi-sensory experience. Afterward, I received a sleek souvenir, one-of-a-kind video clip, consisting of bits and pieces of my 4D virtual and augmented reality experience. Jack Ryan was the unforgettable highlight of my Comic-Con experience.
DC Universe
DCU provided an elaborate experience as well, albeit lower key.  There were multiple rooms – Titans, Dick Grayson's Loft, Young Justice, Swamp Thing, Harley Quinn, Doom Patrol's Chef Lab.  There were DC Legends and batmobile on display.  I got into a jump-scare room with mirrors and maze and phantom figures coming out, looked for clues as a detective trying to find the missing Grayson, posed as a Young Justice superhero for a photo opportunity, did a walkthrough of a swampy Swamp Thing forest, watch people in a bloody room release their rage and smash stuff around like Harley Quinn (I didn't have the time to do this myself), and tasted an oddly delish and refreshing liquid nitrogen-processed Doom Patrol's popcorn (chocolate, caramel, unicorn) served in a biohazard-marked cup.
DCU came out with a brand new app, content-rich subscription at $7.99/month or $74.99/year.  The content-rich subscription provides subscribers with mixed media, including comics that can be viewed via Apple TV, Amazon Fire TV Cube, Android TV and Roku.
Marvel's Cloak and Dagger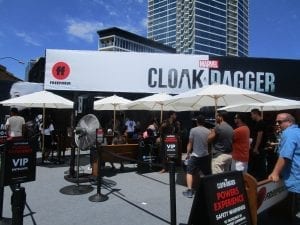 This exhibition illustrated a scene from the TV show where Cloak sees Dagger and they both gets thrown off due to the powerful energy between them.  On the set, I wore a vest and tied into a harness.  Feeling the tension in my back, I leaned forward to face the other guest.  Pre-special effect – after a countdown, each of us extended our right hand (without touching) and got pulled back with a force.  Post-special effect – the scene appeared as if we're touching hands and a ball of white light exploding between us.  While brief, it's a neat experience.
FX American Horror Story
This exhibition was titled Eccentric Collections.  A wealthy collector collects oddities from around the world.  Nothing as they seem though.  There are unseen spirits in the paranormal world.  I entered the museum-like room with strange objects, such as a sinister doll, statue, beast, bird cage, covered deceased body, tree trunks.  There were people acting as docents guiding visitors from viewing one object to another.  In the physical world, these objects were static.  However, once I brought up my FX tablet in front of each plague on the wall and the object, each object became rattled or alive and spirits came out of the woodwork.  The ambiance was enhanced with the sound from the personal headset.  It was a fantastically creepy experience.
FX Legion
Legion gathered a small group of people in a cold, circular room with a rotating, 360 degree kaleidoscope of images and colors from the show.  The rotating movement gave visitors an ascension sensation.
Outside of these experiences, it's worth mentioning that Netflix has some competition from Tubi.  A free streaming service, Tubi uses an ad-supported model and has partnered with a number of major studios. Tubi offers more than 7,500 titles per month, with varied contents such as movies, TVs, and animes.
---
Courtesy of CBS Studios, I had the pleasure of attending their press photo lines for the upcoming reboots (premiering this fall), "Charmed," "Magnum PI" and "Tell Me A Story."  They also screened the TV pilots for the first two.
Charmed
(in attendance: executive producers Jennie Snyder Urman and Jessica O'Toole; stars Sarah Jeffery, Madeleine Mantock and Melonie Diaz) Charmed promised to honor the original and respectful of the mythology but with a modern twist, especially in this (#MeToo) day and age.  It's a coming-of-age story where audience could expect to see sisterhood, female empowerment, LQBTQ representation, humor, witchcraft and demons.  The pilot showed a new sister bonding in; having conflicting beliefs – believing, doubting, rejecting, embracing and uniting in the magical power of three; discovering and battling demons in human bodies; and humorous interactions with their mentor and advisor to witches whom may or may not be trustworthy.
Magnum PI
(in attendance: executive producer Peter Lenkov; stars Jay Hernandez, Perdita Weeks, Zachary Knighton, Stephen Hill) This show reminded me of "Hawaii Five-0," with its scenic setting in Hawaii, over-the-top action and investigative work, and comedic dynamic.  They've got a team of Navy Seal, two former Marines and a former MI:6 agent.  There's a diversity touch in this reboot.  Magnum is Mexican-American and the property master is now a woman.  The PI team often buttheads with the Hawaii Police Department trying to solve a case.
The pilot deals with the team looking into the kidnapping and death of Magnum's friend from the Navy, which is connected to the release of two ex-Marines from prison after looting Iraqi villages. Magnum parachutes from space into enemy territory for a rescue mission, drives backwards in high speed and shoots nonstop, pulls a 'Fast and Furious' move over a car roof and doubles it up by clinging into a helicopter.  This looks like an entertaining reboot.  The panel mentioned that the show wouldn't t rule out the possibility of the original Magnum, Tom Selleck, from making an appearance.
Tell Me A Story
(in attendance: executive producer and writer Kevin Williamson; stars Paul Wesley, James Wolk)While "Tell Me A Story" didn't have a screening, the panel mentioned that the story was about a fairy tale adaptations in modern New York; Hansel and Gretel intertwined with Little Red Riding Hood and Three Little Pig.  Audience could expect to be surprised of who they would be rooting for and who's the bad guy or the good guy, as it's not always obvious.  There's no supernatural aspect; it's an edgy, serialized drama and suspense thriller.
BumbleBee
(in attendance: director Travis Knight; stars Hailee Steinfeld,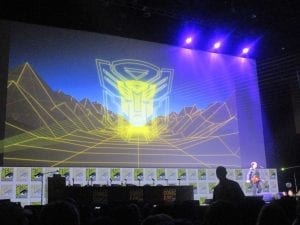 Jorge Lendeborg Jr., John Cena) This film was a rock-and-roll experience, opening with Stan Bush singing "The Touch" live.  Once the panel got started, Cena made a blaring entrance through the aisles high-fiving fans with "Fight to Survive" song playing in the background.  Before the "Transformers" series, there's BumbleBee.  This movie returns to its origin in the 1980s.  BumbleBee has always had the greatest affinity for humanity.  Expect to see Cybertron, triple-charger Decepticon (Blitzwing), as well as an appearance by Optimus Prime.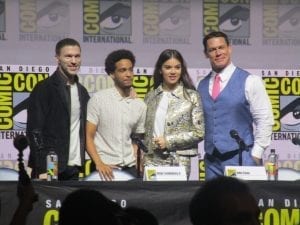 It's also a coming-of-age story, a friendship between a girl and a robot.  The girl has experienced a major loss in her life.  She wants to move away from negativity, craves for a sense of freedom, finds a sense of discovery, and becomes her own person.  She experiences this life journey with BumbleBee.  There's also a friendship with her neighbor, a geeky boy.
The footage showed the girl's discovery of the loveable robot, Decepticons that could turn into a jet and a helicopter (Shatter and Dropkick), a fierce fight leaving BumbleBee's life hanging in the balance, and a funny scene of a clumsy BumbleBee inside a living room and kitchen.
Venom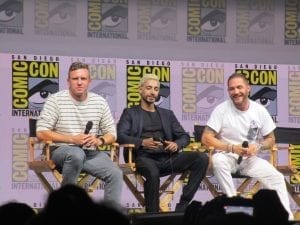 (in attendance: director Ruben Fleischer; stars Tom Hardy, Riz Ahmed) Venom brought in a brutal trailer with Hardy transforming into the black liquidy symbiote with monstrous teeth,  ferocious attacks and car crashes. Venom would be battling a powerful symbiote, Riot.  The antagonist is a billionaire inventor (a.k.a. Riot) who experiments on humans with symbiote.  He believes our ecosystem is in the brink of collapse and is convinced that his experiment's result is the future of human evolution.
There are no heroes in this world.  Definitely darker than Marvel, grittier and grounded with a more violent character.  Eddie Brock is a lethal protector, investigative journalist that falls into hard times.  An 'anti-hero,' his ethical standards and moral codes are off, even if he has a noble heart.  With Venom in him, it's like having two different beings living in himself, but  no one believes him.
I attended other panels partially; "Glass" (in attendance: director M. Knight Shyamalan; stars Samuel Jackson, Bruce Willis, Sarah Paulson, Anya Taylor-Joy), "Halloween" (in attendance: director David Gordon Green, producers Jason Blum and Malek Akkad; star Jamie Lee Curtis), and animation "Spider-Man into the Spider-Verse" (in attendance: directors Bob Persichetti, Peter Ramsey, Rodney Rothman; writers and producers Phil Lord, Chris Miller; stars Shameik Moore, Jake Johnson, Hailee Steinfeld).
"Glass" is a sequel of psychological and horror thrillers "Unbreakable" (1999) and "Split" (2016).  The movie brings together Willis, Jackson and McAvoy.  Their characters are patients of a psychiatrist who specializes in treatments for those who believe they have superpowers.  "Halloween" showed a gory sneak peek, with masked serial killer Michael Myers hacking his way through the neighborhood at Halloween night; a bona fide horror even 40 years later.  The animation "Spider-Man into the Spider-Verse" plays in an alternate dimension.  It has a comic book style that translates into a distinctive look on the screen.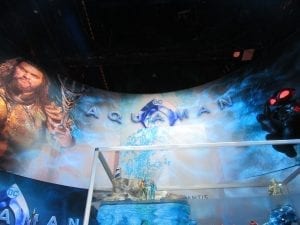 In other news, Warner Bros made a splashy debut with a trailer of "Aquaman" (now available online).  The FX-heavy movie looks more like a fantasy, action adventure sci-fi with an underwater metropolis and dual-battle between the surface world and the ocean occupants (including war seahorses).  "Wonder Woman 1984" was still very early in the shooting process and continued to keep the mystery of Steve Trevor's return to the 1980s after he's seen perished in the original movie.
While I missed the pilot screening of NBC's "Manifest" (premiering on
September 24, 2018) due to time conflict, the premise sounds intriguing.  In 2013, an airplane with 191 passengers experiences a turbulence and lands safely.  When these passengers land, they find that it's now 2018.  Their few hours of disturbance in the air translate into a missing five years.  A lot of potentials can be explored here.  The show has been described as a reversed "Lost" and a convergence of faith and science.
The panels and presentations have always been the staples of Comic-Con.  Having attended for many years though, it's a nice change to spend extended time on other cool activities.  Cheers to creativity, technology innovations, and new experiences!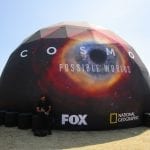 Copyright (c) 2018. Nathalia Aryani.
Nathalia Aryani is a film columnist and has a movie blog, The MovieMaven (sdmoviemaven.blogspot.com). Twitter: @the_moviemaven. She can be reached at indotransserv@gmail.com.