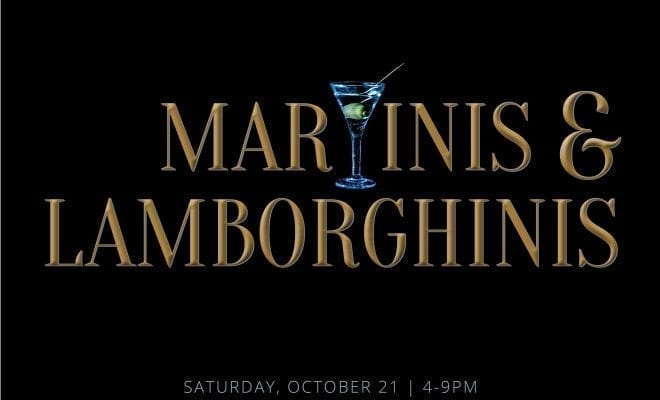 Entertainment & Events
Class it Up this Saturday with Martinis and Lamborghinis
By
|
Spend your Saturday night at the launch party for Luxe Car and Collective, a new luxury car rental service. The Martini and Lamborghini themed party will take place at a 20 million dollar home in La Jolla from 4pm-9pm. Enjoy a night of high class cars, Fall inspired appetizers, and DJ Ofier will be spinning tunes to keep the party upbeat. With your $40 entry fee you will be able to enjoy the beautiful architecture of the La Jolla getaway, valet parking, and you will be donating to a non-profit organization with the purchase of your ticket. You can also enjoy delicious drinks along with Martinis, of course.
Spend your night networking and meeting new faces in the San Diego area while enjoying a extravagant and exclusive night out. Whether you want to indulge in tasty sushi or take pictures of the majestic real-life mermaid, entertainment and an exciting night is absolutely promised. Take time on your Saturday night to put on your best cocktail attire and network with some of hardest working professionals in the city.
Luxe Car Collective wants you to have the best car that you possibly can, and wants driving to be a positive experience. The founders Christine Mcdannell and Jay Johnson have been friends since 2003, bonding through sport biking. Their mutual passion for cars shed light on a need for a luxury car rental service in SoCal and Luxe Car Collective was born. Christine has been in love with cars since she was a teenager, which led her to having a passion for sports bikes. It's safe to say Christine likes speed and her love for cars has also led her to volunteering at the Russo and Steel car auction a couple times per a year. Jay grew up wanting to race cars and his passion carried into his adult life. Once he became a San Diego local, he started to enjoy the simple things in life and his GSXR1000.
Once the friendship between these two was solidified, they became the ultimate power team. Luxe Car Collective's mission is to allow the public to drive high class cars without the stress or worry of having to actually own it. You can see more of Christine, Jay and the luxury cars this Saturday at the launch that is sure to be a night of fundraising and fun.
Complete with plenty of photo opportunities to cover your Instagram feed and a silent auction to participate in. All of the proceeds from ticket sales will be donated to the Virgin Unite non-profit organization.  100% of the party proceeds will go to Virgin Unite, which means each attendee is helping in some need and contributing to a bigger cause. The Branson Family has created an organization that connects business professionals in order to create a better world. They have their organization divided into changing business for good, Marketing solutions, the power of entrepreneurs, and human dignity.
You can find out more details and information at their Facebook page, and you can see updates as well. Saturday night will be filled with entertainment, new friends, new connections, and supporting a company with a great cause.