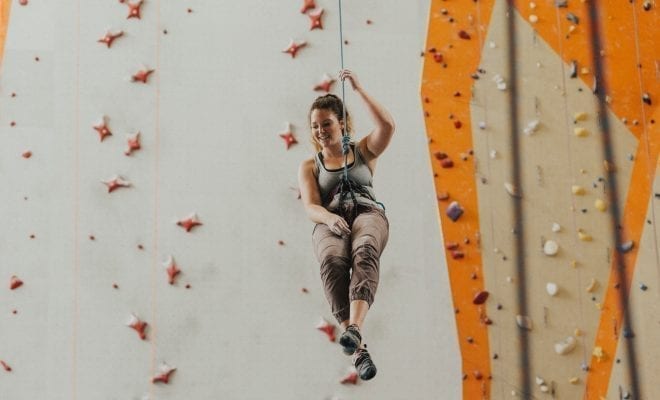 Entertainment & Events
Challenge Your Physical Fortitude at these San Diego Climbing Gyms
By
|
You can only do so many curls, situps, and cardio sessions before you need to switch up your workouts to keep it interesting. If you're ready to take your physical training to the next level, you have to try out a climbing gym. These facilities feature some of the coolest physical challenges, giving you the chance to work your entire body, without, ya know, the danger of falling off the side of a real mountain. Check em' out!
Open 24 hours a day, there is not a time where Vital Climbing Gym won't be able to offer you your climbing thrills. Offering top-notch climbing equipment, Vital also features a thriving local community made up of people who have a true love of the sport. If you're looking to get into climbing, this place is a great option as it gives you the chance to learn and progress at your own pace. 
With locations in Mission Valley and Mira Mesa, and a new facility opening in North County in 2020, Mesa Rim is poised to become one of the top climbing spots in San Diego. With a variety of memberships catering to newly initiated climbers and veterans of the sport, Mesa Rim operates a top-tier climbing facility decked out with only the best equipment available. They also host a variety of fun community events, including BBQs, Yoga, and speed climbing nights. 
This state-of-the-art bouldering gym features 7,000 square feet of climbing area, along with a designated yoga space and a variety of luxury amenities. The owners of Grotto Climbing bring their 32+ years of climbing to deliver the most exciting climbing experience to their customers. Grotto Climbing is a place where modern ingenuity is combined with a love for adventure sports to provide a welcoming and inviting environment that is perfect for newcomers. With plenty of room throughout the facility, there is tons of opportunity to hone your skills and take your climbing game to the next level. 
One of the original climbing facilities in San Diego, Vertical Hold has grown to expand into Poway and San Marcos. Featuring a classic indoor rock climbing design, you'll find a variety of top-roping, auto-belays, and bouldering, along with tons of fitness classes and community events. Vertical Hold is also a great place to bring the kids along for some fun, as they offer ample space for little ones to play and run around. 
Situated in North County, The Wall Climbing Gym is a bouldering-specific climbing gym catering to all skill levels. The place is known for being sporting a laid-back atmosphere, where climbers go to simply enjoy themselves and revel in the adrenaline and fun of the sport. With a solid foundation based upon community, you'll immediately feel at home during your first visit. If you're looking for a casual spot to mess around and get some solid practice, this is the spot to visit.