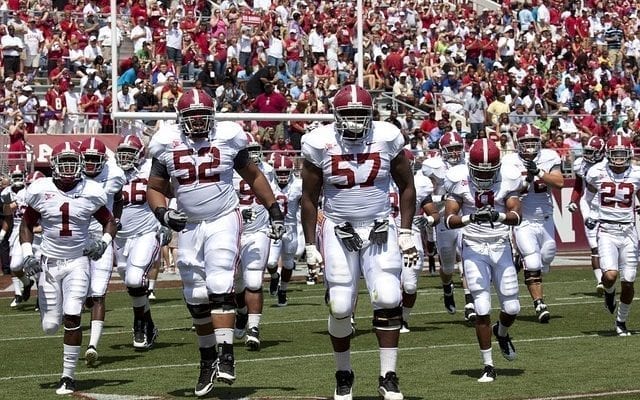 Entertainment & Events
Alabama pulls off stunning victory against Georgia in national championship
By
|
Last night, the Alabama Crimson Tide took on the Georgia Bulldogs in a fight for the national  championship title. The first half of the game saw the Tide as a shell of its usually high-powered offense, with sophomore quarterback Jalen Hurts not connecting with receivers, and only having under 60 yards of offense. Going into the locker rooms at halftime, Alabama trailed Georgia by 13 points, and it was time for Alabama to get down to business. I'd pay a million bucks to be able to see a video of head coach Nick Saban's halftime speech, because whatever he said worked. Saban made some changes in his depth chart, and as the second half began,  we saw freshman quarterback Tua Tagovailoa take the helm as starter. Not having started a meaningful game all year, this was his time to shine.
And shine he did. Tagovailoa led his team to a stunning overtime victory over the Georgia Bulldogs, throwing a 41-yard pass to DeVonta Smith after suffering a sack that left them on a 2nd and 26. In an interview after the game, Tagovailoa told reporters that the moment he learned he was going to be throwing a go route to his receiver, Smith looked up at him in the huddle, and simply said, "Trust me, bro". At that point, Tagovailoa nodded, with a calm falling over him. The rest was history.
The decision to bench Jalen Hurts, who had been the crown jewel of the Alabama offense had come with major controversy, but Hurts himself was not negatively affected by it in any way. On the sideline while Tagovailoa was playing, you couldn't find another player who was more engrossed in his performance. He took the decision of him being benched as not a bad thing, but what needed to be done for the team. After the game, Hurts expressed his gratitude for Tagovailoa, saying, "I love you. This is what you're made for. You're built for this". When asked about his opinion on being benched, Hurts simply explained, "Ain't no conversation. It was a decision he made. He's a boss and he made a great decision".
As for Alabama kicker Andy Pappanastos, lets just say he was one happy guy after the game. Before the two teams went into overtime, Alabama marched down the field and got into reasonable field-goal range. With the clock run down to just 3 seconds, Alabama brought out the kicking team, in hopes of sealing the game right there with a 39-yard field goal. Unfortunately, the pressure of the situation got to Pappanastos, and he shanked the kick far left, bringing the game into overtime. His last college game ended with that play, but in the end, he was bailed out by his teammates.
After the game, Pappanastos told reporters, "I honestly had a lot of emotions — kind of crying, a lot of laughing. A lot of hugging. A lot of different things going on, man. But at the end of the day, we won. I'm so happy for my teammates. To go out as my last game, JK's last game, to go out like this … I don't know man. We came in wanting to have fun. It was a challenge for me at times for me at least, but in the end, I've had a good night"