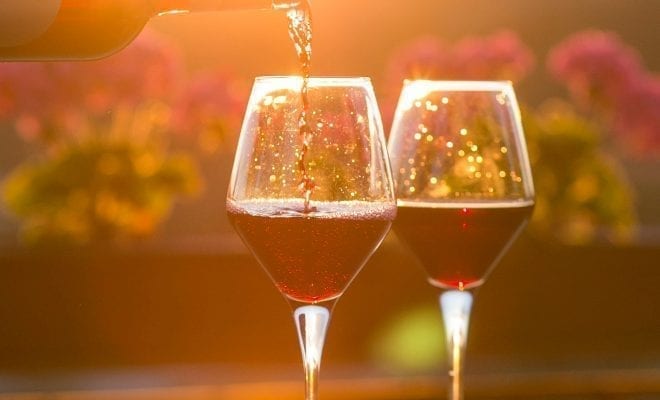 Drinking
Thirsty Thursday: Where to Unwind on National Wine Day
By
|
Everyone loves a nice glass of wine after a long day. That's why, for this week's Thirsty Thursday segment, we'll be sharing our favorite spots to unwind with the perfect glass of wine.
May 25th is National Wine Day and it's safe to say that most of us don't need any convincing to celebrate this made-up holiday. Consider the occasion as your invite to indulge guilt-free with a glass (or bottle, no one is here to judge) at these restaurants, which offer some of the finest vino experiences for every wine-o in San Diego.
The Patio on Goldfinch doesn't just have any ol' bottles ready! The cozy Mission Hills eatery is taking National Wine Day overseas with its global and unique wine list offering grapes from all over the world from France to Spain to South Africa and of course some California favorites from Sonoma County.
Below are a few international wines you can sip on, no passport required:
Sekt Rose | Intersekt – this lovely rose traveled all the way here from Germany to bring us an uber amount of bright and fruity pink bubbles.
Chenin Blanc | Indaba – this summer wine from the Wester Cape of South Africa offers hints of pear and hazelnut and a unique creaminess you won't forget.
Cabernet Sauvignon | Carmel 'Selected' – this wine is described as well-behaved tannins dancing around some understated fruit traveling from Shomron, Israel.
Sauvignon Blanc | The Darling – zippy waves of acidity with lush tropical notes all the way from down under! This white from Marlborough, New Zealand is delightful.
Like what you try? The Patio on Goldfinch sells by the bottle so you can take your favorite wine home!
The 3rd Corner Wine Shop and Bistro is a unique concept that combines a retail wine shop with a true California Bistro restaurant. Their inventory of wines is extensive and the prices are unbeatable. For just a $5 corkage fee, you can choose a bottle from their extensive inventory and dine in house. Their menu is modern and sophisticated, with dishes like Duck Confit and Day Boat Scallops. Check out The 3rd Corner at their Ocean Beach or Encinitas locations.
Inspired by the eclectic lounges of New York's "meatpacking district" and the warm brasseries of turn-of-the-century Paris, Vin de Syrah is complemented by amazing cheeses, desserts, and a friendly wine list.
Clara – Carlsbad
Cheers to the best day of the year at Clara in Carlsbad. The chic dining and drinking oasis is the perfect place to order a glass from a simple, yet exquisite wine list. Enjoy $5 glasses of vino on National Wine Day as part of the restaurant's late-night happy hour, 10 p.m. to midnight.
The glass is always half full at Farmer's Bottega in Mission Hills. Channel your inner wine connoisseur by choosing a pour from a carefully selected wine menu, while indulging in a Charcuterie board made up of a daily selection of imported and local cheeses, cured meats and artisan bread.