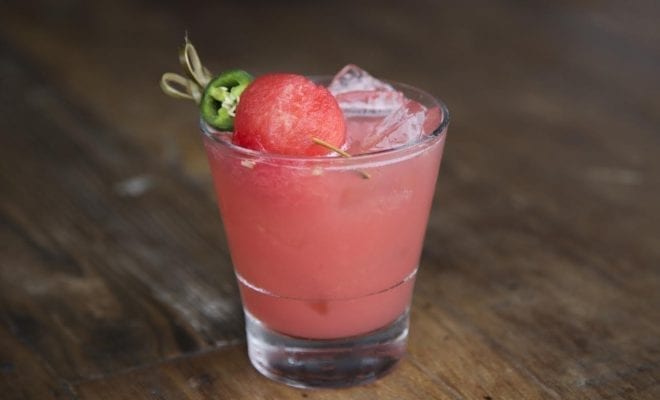 Duck Dive Cocktail - Courtesy Photo
Drinking
Thirsty Thursday: Flavor Frenzy from The Whiskey House & Duck Dive
By
|
Right in the thick of the May-Gray, June-Gloom season, it's getting harder to believe that summer is almost here. If you're like me, Seasonal Affective Disorder really sinks in, and these dark skies make me feel like I flashed back to the holiday season. Don't get me wrong – I love the holidays. And what I love most during the holidays is sippin' on a yummy Manhattan to warm me right up. Luckily our friends at The Whiskey House shared with us how to re-create their exquisite White Truffle Manhattan. This one is one for the books…and the palette. Made with White Truffle Infused Rittenhouse Rye Whiskey, this smokey, sweet and smooth cocktail with have you singing songs 'til summer. And sing away! You won't be able to get enough of this cocktail this weekend – a true hero of Manhattan recipes everywhere.
White Truffle Manhattan
Recipe Courtesy of The Whiskey House
Ingredients
2 oz of Italian Alba White Truffle infused Rittenhouse 100-Proof Rye whiskey
¾ oz of Carpano Antica Vermouth
3-4 dashes of Angostura Bitters
Luxardo Maraschino Cherry
23k edible gold flakes
Instructions:
Start by pouring the whiskey into a mixing glass.
Add the vermouth and 3-4 dashes of the bitters.
Add ice and stir roughly 30-40 times until well chilled.
Pour into a chilled martini glass.
Garnish with a cherry and serve. Cheers!
Margarita May is coming to an end, but not without going out with a bang. Head over to Duck Dive for their Berry White Margarita, and new take on the classic tropical favorite. Take your regular old margarita, throw in fresh blackberries, coconut/vanilla syrup, and a dash of cinnamon syrup and your taste buds will transport you to the beaches of Cancun, or maybe Hawaii…the Bahamas? Let your mind wander as you sip on this decadent cocktail, while simultaneously planning your summer vacation.
Berry White Margarita
Recipe Courtesy of Duck Dive
Ingredients
1.5 oz Milagro silver tequila
.25 oz lime juice
.25 oz lemon juice
.25 oz agave
.5 oz coconut/vanilla syrup
.25 oz cinnamon syrup
2 fresh blackberries
Instructions
Muddle fresh blackberries, lime, lemon, agave
Add tequila, then coconut/vanilla syrup and cinnamon syrup
Add ice shake and strain over fresh ice into a salted rim glass
Garnish with a grilled lime wheel