Drinking
San Diego International Beer Festival
By
|
The San Diego International Beer Festival is finally back from June 16th-18th and it's not too late to purchase tickets! If you are a beer lover, this is the perfect place to be. With over hundreds of beers, and 5 sessions, there's no way you'll want to miss this opportunity.
There will be over 200 breweries represented in this festival, so you can discover a new variety of beer. Tickets start at $55 and there is a VIP option for $110. Being a VIP guest means being able to go into t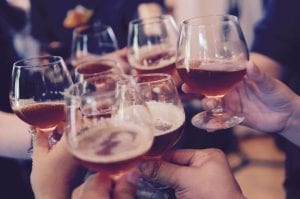 he VIP lounge, you will get into the beer session half and hour early, receive a souvenir glass with unlimited 6-ounce beer samples, VIP food, and much more. The general admission access allows you to receive a souvenir glass with unlimited 1 ounce beer samples. Either way, you get to taste award winning beers from different breweries with your best friends.
The tap list is officially posted and includes breweries such as Ballast Point, Ale House Brewing Company, and Booze Brothers Brewing Company. This festival is also filled with different contests to win. Every session has different contests, including the best beer belly, best costume, and best BEERd. These fun contests all have different prizes for the winners, so be the best!
The beer festival is located
at the Del Mar Fair Grounds which is about 20 miles from downtown San Diego. This is the perfect place for San Diego locals to come together for a night of drinking, entertainment, and more drinking. There are many perks to attending this weekend out on the town as well. Such as, being able to purchase Sundborn Pottery, Shirts on Tap, or Chili Growlers.
The 11th annual International Beer Festival is the largest beer festival located on the West Coast. Every year, more than 14 countries participate and are a part of the public tastings provided. Attending the festival also allows you entrance to the San Diego Country fair, formally known as the Del Mar Fair. Enjoy the rides and fried Oreo's before indulging in your favorite beers at the festivals.
The judges for this year's intense competition include Tom Nickel and Tyson Blake. These experts have been a part of the brewery world for a very long time, so they know what good beer tastes like. Ever since 2007, this beer festival has been a popular outing that brings people together for a fun time of eating, socializing, and of course drinking. You can also look up the results of last years winners on their website, to discover new breweries and new beers.
Come out to the international beer festival, where you can be a VIP tasting some of the best beers in the world. This festival is the perfect summer gathering for you and your friends, and it's guaranteed to be a fun time. Purchase your tickets now and be a part of one of the biggest beer festivals in the country. If you're a beer lover or want to become a beer drinker, then don't miss the opportunity to purchase your tickets for this unforgettable outing. Come be a part of the fun this June and enjoy your night out in San Diego.