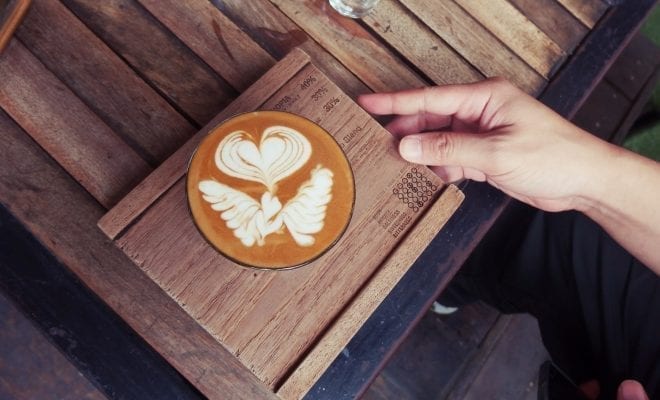 Drinking
Lavender Lattes: What Are They and Where Do I Get One?
By
|
Lavender has been popping up in the drink world as of lately, bringing a new flavor to cocktails and coffee drinks alike. It's subtle sweetness adds just enough of a new element to get your tastebuds curious. The floral profile is a perfect treat during spring, so why not try it? Here are a few of our favorite San Diego coffee shops who understand why lavender has become a trend.
Stop by this floral shop that appreciates the art of craft coffee and the beauty of flowers. In addition to the simple aesthetic and monochromatic imprints, Communal uses its decor to create an inviting atmosphere for those that appreciate the quality of craft coffee. Try their Rose Lavender Latte or Honey Lavender Latte either hot or over ice. Not sure if lavender is your thing? Grab a latte flight (yep, that's a thing) and try samples of three different types of lattes, and know what to order for next time!
On the outer edges of Liberty Station near Corvette Diner is a coffee shop/store in one! Check out their lifestyle goods while waiting for your Brown Sugar Lavender Latte. Moniker uses a housemade brown sugar lavender syrup that sweetens up their single origin espresso in the best way. Adjust the sweetness if you'd like to taste the espresso a little more and enjoy it your way. Come right before they close and grab a seat outside by the firepit to sip your drink under the stars.
In addition to lavender lattes, Holsem Coffee also offers lavender sprinkles on their dark chocolate mochas. This is a must try for lavender lovers. another flowery treat. Are you a fan of floral flavors, but not really lavender? Treat yourself to a La Rose En Vie: rosewater, honey, cardamom, and milk all topped with beautiful rose petals. http://www.holsemcoffee.com/
Come in for breakfast, or meet up with a friend for coffee and pastries! This Solana Beach nook is adorable, local-minded, and high-quality. Their lavender comes in the form of a Monin syrup, and can be added to your latte or over ice as an Italian soda. Wake up your taste buds with these bright notes of spring!
Mexico has caught on to the trend as well! Just a few miles in from the border, right outside Estadio Caliente, is a hipster-looking coffee shop that will make you feel right at home. Order a hot lavender latte and expect to taste quality coffee with beautiful latte art, at half of the American price.
If you haven't tried lavender in your latte yet, we'd highly recommend it.