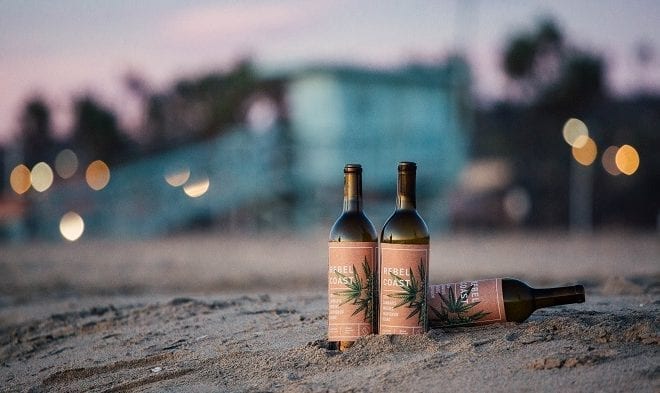 Drinking
Thirsty Thursday: Cheers to Cannabis-Infused Wine Available in San Diego
By
|
For this week's Thirsty Thursday segment, we are featuring an innovative concept that is taking San Diego by storm. Sauvignon Blanc may have had its origins in the Bordeaux region of France, but it has taken on a distinctly Californian aspect now that Rebel Coast, based in Hermosa Beach, has infused it with cannabis and is available at the Torrey Holistics dispensary right here in San Diego. The world's first ever cannabis-infused wine is being offered to wine-lovers to enjoy along with their friends and dinners at home, in total compliance with California's cannabis industry regulations.
What makes this especially appealing is the fact that there will be no next-day hangover, since the Sauvignon Blanc is completely free of alcohol. However, it is not missing the pleasant, euphoric sensation that the traditional wine would have, due to the addition of tetrahydrocannabinol (THC) from marijuana.
The enchanting taste of the Sauvignon Blanc itself is not heavily impacted by the presence of THC, retaining the premium flavor of grapes grown in Sonoma County, and fermented using the same process as ordinary wine. The extra step performed by Rebel Coast winemakers involves the removal of alcohol and the infusion of THC, all of which is carried out without disturbing the gentle flavor of the wine itself. Most imbibers will feel the effects of the wine within about 15 minutes of consumption, and even if a second or third glass is enjoyed, there won't be any headaches the next day.
In a full bottle of the new cannabis-infused wine, the alcohol content has been replaced with approximately 20 mg of Sativa-dominant THC, which works out to about 5 mg per glass of wine. This content is roughly equivalent to drinking the same amount of traditional Sauvignon Blanc and provides the same kind of giddy, happy feeling and social disinhibition.
The Rebel Coast Sauvignon Blanc can be purchased directly from Torrey Holistics, which was given the first recreational dispensary license in the state. While other dispensaries are sure to follow suit in offering the cannabis-infused wine, Torrey Holistics is the exclusive retailer for the time being, so wine aficionados are sure to start lining up to snap up the Sauv Blanc.
Beginnings of a New Trend
It is quite likely that this cannabis-infused wine from Rebel Coast begins a new trend in San Diego, which will then spread across the state and probably across the country. Cannabis-infused products have been increasing in popularity ever since legalization, with edibles, cannabis coffee, and other products gaining fans. Infusing cannabis into wine was a natural fit that has only been delayed this long because of the complication of making the alcohol substitution, without affecting the wine's delicious flavor.
Kudos to Credit Rebel Coast for discovering that process, which is now patent-pending. Early numbers indicate that the Sauvignon Blanc is being well received in San Diego and elsewhere, and that success is certain to lead to other forays into similar offerings. Already Rebel Coast is working on the development of cannabis-infused Rosé wines, as well as champagne, so lovers of those two wines can look forward to the same great drinking experience in the near future.
---
Purchase Rebel Coast Sauvignon Blanc at Torrey Holisitics in store at: 10671 Roselle St #100, San Diego, CA 92121
Or order it online and get it delivered here.