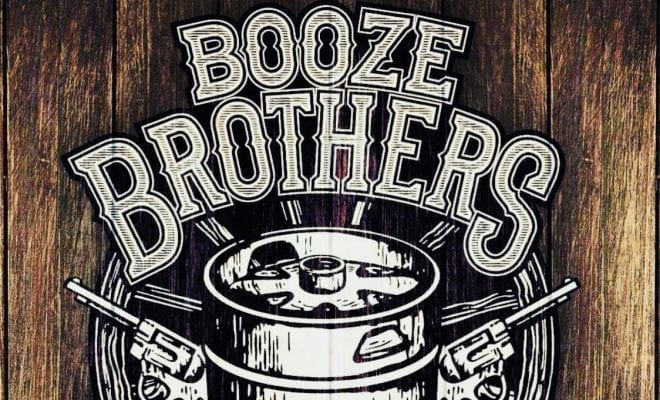 Drinking
Brewery Spotlight: Booze Brothers
By
|
Booze Brothers Brewing Co., owned by Dave and Donny Firth, is a brewery that is operated under the guiding principle of enjoying good beer with good friends. Located in an industrial office park in Vista, this brewery is fairly unassuming from the outside, but upon entering, you'll be taken back by the eclectic interior. The space has been transformed to resemble the Booze Brothers humble beginnings of experimenting with micro brewing in their garage. The space is complete with ample seating and a quirky vibe that is somewhere between Old Western and industrial, with its concrete floors and brick-laid bar. Large shrubbery and re purposed chandeliers hang from the ceiling and a large illuminated American flag hangs on the wall. The walls are dark, but the space is well lit from natural lighting, making it a comfortable space during the day and at night. 
The brewery is kid and dog friendly, with a large outdoor area for lounging about and hanging out with friends or enjoy the free live music they sometimes offer. One cool aspect of Booze Brothers is the artwork you'll see on their beer bottles, glasses, shirts, and stickers. They're reminiscent of surrealistic art with a twinge of traditional tattoo styles and fonts. These guys support local artists, and rotate between different collections every month. 
The most important part, however, is the beer. And boy do they get it right at Booze Brothers. They have a revolving list of 10 or so beers on tap and update their website daily to reflect what's in stock. There is a wide variety of beers available for all types of beer drinkers. There are light, straightforward beers, like their Penny Blonde, a perfect choice for a warm summer night. For those who want something a little bit heavier, their Ol' Grandaddy's Double IPA will certainly do the trick, with a 8.2 percent ABV and citrusy notes to balance out its moderate bitterness. My personal favorite is the American Pale Ale with belma, mosaic, and citra hops.
One unique aspect of their beer is the fact it is brewed with a product known as Clarity ferm, which specifically reduces the amount of gluten found in their brews. While their beers are not totally gluten free, the amount of gluten found in these beers are measured as less than 10 ppm, which is below the threshold for most celiacs.
As for food, Booze Brothers has a rotating list of food trucks and vendors at their outdoor patio for you to pair with their beers. Some of these vendors include Pure Burger, Epic Eatz, Criscito Pizza, and more.
Booze Brothers is open 7 days a week, so be sure to come check it out and experience this fun and eclectic brewery! 
Location: 2545 Progress St. Suite D, Vista, CA 92081