Dining
Where to Get Your Fix on National S'mores Day
By
|
Nothing says summertime like toasting marshmallows over an evening campfire. Whether you're patient enough to toast yours to a golden brown or you prefer it nice and charred, there's nothing like pairing it with a graham cracker and chocolate to create America's favorite summertime treat. National S'mores Day is August 10th, and if you can't make it to the great outdoors to craft yourself the perfect s'mores dessert, head to these San Diego spots that will be serving up some sticky, chocolatey gooeyness you'll want to get your hands on.
Donut Bar reigns supreme in the beloved breakfast pastry destinations. With their massive portions, mouth-watering flavors, and artful presentation, it's no wonder San Diegans flock to Gaslamp to get in on their decadent creations. If you're one of the lucky ones who get their early before the line begins to wrap around the block, you've got to get your hands on their Big Poppa Tart Donut -S'mores Edition. You won't regret it.
10 Barrel San Diego can add decadent desserts to their roster. The popular brewery gets in on the s'mores action with their take on the sweet treat. Head over to the East Village pub to try their special S'Mores Bread Pudding, made with homemade marshmallow, dark chocolate graham cracker crumble, Mexican chocolate whipped cream and chocolate sauce. Pair this delicious dish with their Throwback Oatmeal Stout: Brewed for the stout lover who can't stop even in the summer heat. Smooth and roasty, yet refreshing and dry, this seasonal quaff is super easy drinking. Brewed in house at the East Village pub by Brew Master Benny. IBU 18/ABV 5.2%.
Breakfast Republic has seven locations open across San Diego, and the creative minds behind this award-winning spot have been known to bring some deliciously quirky fun to the menu. Incorporating this beloved fireside treat into their menu, you can grab their S'mores French Toast, featuring a graham cracker crusted brioche bread with toasted marshmallows and an indulgent chocolate sauce.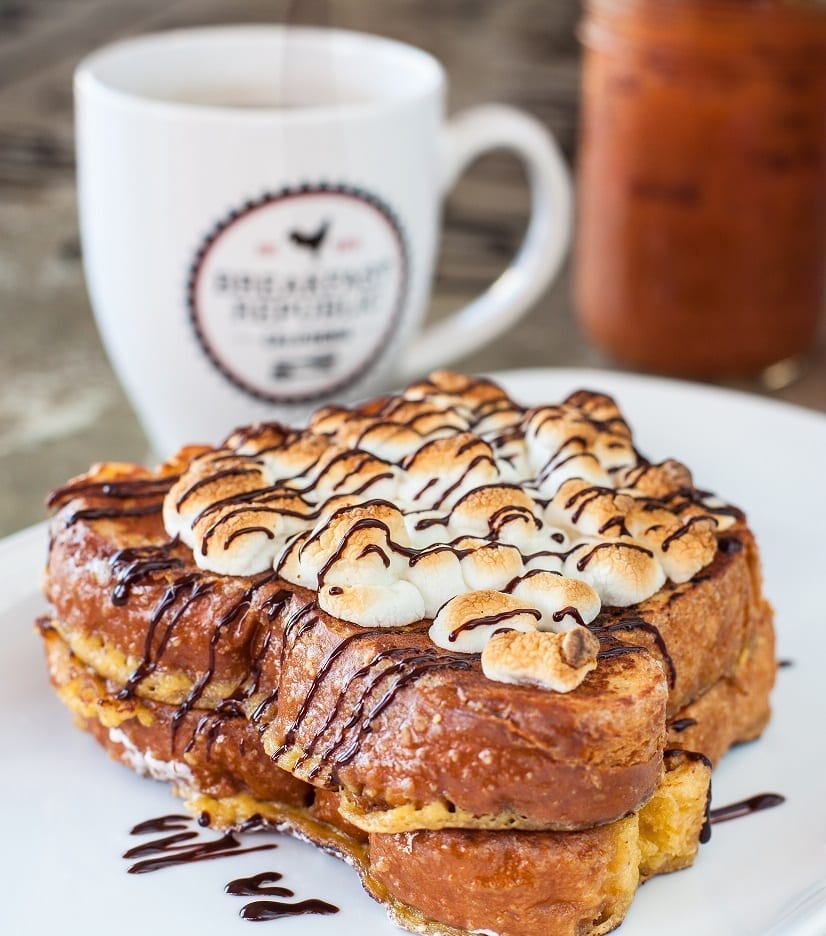 Union Kitchen and Tap is an Encinitas local's favorite whether it be breakfast or dessert. Come and check out their S'mores Pie, a dish crafted with Mexican chocolate mousse, marshmallow fluff, cinnamon chocolate sauce, and a graham cracker crust. One taste of this pie and you will be hooked on it.
The Duck Dive is a Pacific Beach staple and not one to miss out on the s'mores excitement, you can indulge in their Tableside S'mores. This experience puts the power in your hands to create your very own s'mores dessert. Skip the tent and campfire and say yes to the crisp Pacific Beach air. You'll be provided with a DIY set up with all the necessities to make the best s'more to your liking. Servings start at two for $10, or four for $14.
Farmer's Table has locations throughout San Diego, and they are ready to sweeten up your tastebuds on National S'mores day with an order of their exquisite Bonfire Pancakes. A tribute to campfire s'mores, these delicious pancakes feature marshmallows, graham crackers, and chocolate sauce to coat these fluffy pancakes to perfection.
barleymash provides customers with a true representation of American culture within its menu, and their dessert menu is something really special. The Grilled S'mores Sandwich is in a league of its own, featuring toasted cinnamon swirl bread, bourbon chocolate ganache, vanilla bean marshmallow, cinnamon crunch ice cream, and a graham cracker cookies. Talk about the next level.
The Melting Pot is a real dream for all dessert lovers, and their Chocolate S'mores dessert is no exception. With deliciously warm milk chocolate, marshmallow cream, and bits of graham crackers, you're in for a well-deserved night of indulgence.