Oysters Rockefeller at WhipHand
Dining
Where to Eat at Petco Park
By
|
Petco Park is a true gem in the heart of San Diego. Serving as a central hub for the city, Petco Park is the lifeblood of sports, entertainment, and dining for all San Diegans. Not only is it continuously ranked as one of the best baseball stadiums in the country, but Petco Park is also home to over 60 food and beverage venues serving up the finest for its patrons.
With Padres season in full swing, you may find yourself making your way to the stadium for a day filled with baseball, cold beer, and good food. Just because want you to have the absolute best time possible, we've rounded up the top breweries, bars, and restaurants in and around Petco Park for you to make the most of your time there.
In Petco Park
Known for being one of the top coastal cuisine locations in Ocean Beach, Wonderland Ocean Pub brings their beach vibes to Petco Park's upper deck at section 309 for you to enjoy. Enjoy fresh seafood offerings like their Ahi Poke, and wash it down with a beer from Resident Brewing Company or other local craft brews.
This organic, fresh seafood hotspot is open to all fans at two locations inside the stadium. Craving a fish taco? Head over to the field level location at section 117, where the menu emphasizes this perfect mid-game bite. For an extended menu with offerings like poke, sashimi, clam chowder, and seafood plates, head over to the Toyota Terrace at section 220.
Around Petco Park
A short stroll over to East Village at 804 Market St will have you finding yourself at Bootlegger, a beloved neighborhood spot with a friendly and comfortable atmosphere. Here, you can peruse the extensive craft beer selection, and grab a few bites to eat pre or post game. Start it off with an order of their Buffalo Cheese Curds or Southern Fried Pickle Chips, then settle in for a Lagunitas IPA Pulled Pork Sliders or Chicken and Waffle Sandwich.
If scenic views of the San Diego skyline on a spectacular open-air rooftop is your thing, 10 Barrel Brewing is the place to be. This East Village brewpub offer over 20 different San Diego-exclusive craft beers on tap, with guests being able to observe every step of the brewing process. Plus, a locally sourced menu includes all the delicious bites you could ever want, including house-made pizza, catch-of-the-day tacos, burgers, and more.
Simple cuisine with hearty portions that are meant to be shared fill the menu. You'll be hard-pressed to find a good Lobster Roll on the west coast, but look no further. Their massive Lobster Roll is made with delicious lobster sautéed in garlic butter, with jalapeño slaw and crystal aioli. There are finger foods, soups and salads, breads, savory pies and an assortment of gourmet sandwiches. At the root of the menu, guests will find classic American staples and each dish has its own distinctive twists that take it from basic to exceptional.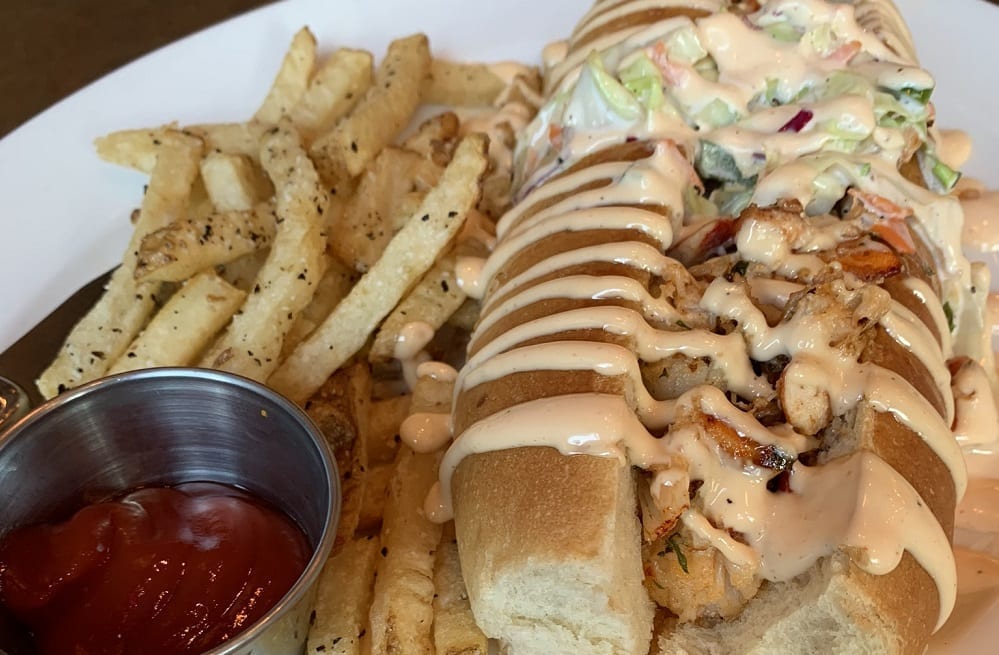 With one of the best rooftops in downtown San Diego, Upper East Bar offers stunning views of Padres Stadium. Every week you can find specials before and after the ballgame, including happy hour from 3-6 PM.
With a sprawling patio and a lovely interior to match, Tin Fish is located in the shadow of Petco Park, and makes for an exceptional choice if you're looking for some seafood. From the Clam Chowder served in locally baked sourdough bowls, to golden brown battered fried fish with your choice of the fresh catch of the day.
Social Tap takes the essence of a sports bar and evolves it beyond anything you've seen yet. With plenty of TV's to catch every game you want, extensive beer list, and an expansive back patio with a nice view of Petco Park, Social Tap is a great choice to grab a bite before or after the game. Try out their Double Royale, a classic burger with a slice of American cheese melted over two patties. Be sure to indulge yourself in a basket of their fries, which are crisp and seasoned to perfection.
This old-timey 1900's era eatery features a birds-eye view of Petco Park from the second-floor patio. Head over there to truly be blown away by the ever-revolving list of craft beers and creative cocktails offerings. Half Door's menu includes traditional pub fare, with offerings like Bangers and Mash and braised short rib Brewer's Pie. The Golden Fried Goat cheese are absolutely to die for too.
Authentic Greek cuisine is the name of the game at Meze. From incredible Souvlaki with your choice of meat, to Fiery Feta Mac N Cheese, Meze is a true purveyor of downright delicious Greek food. You can also find some pretty neat Greek beers and wines by the glass.
This pizza hotspot is set up in a garage-esque style with an effortlessly cool vibe. You'll find a menu full of wood-fired pizzas crafted with thin but chewy crusts that come with an eclectic assortment of fresh ingredients. Whether you build your own pie or choose from selections like the J Street with chicken, bacon, pesto, and sun dried tomatoes – you know you're getting some of the best pizza action around Petco Park. Wash it all down with an hand-crafted cocktail or an ice cold beer.