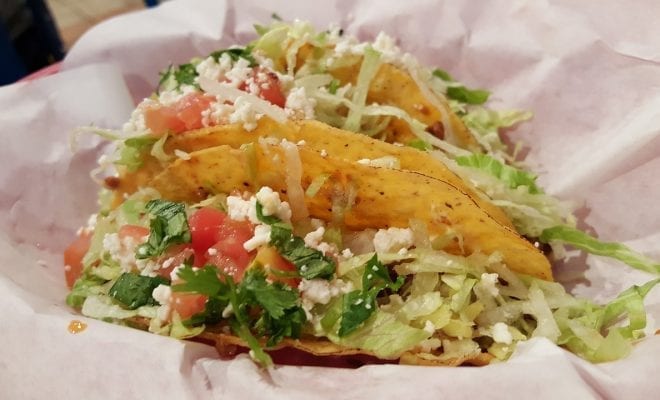 Dining
The Best Deals For National Taco Day
By
|
Living in San Diego comes with numerous perks: the weather, the beaches, the vibrant culture. However, there is one aspect of San Diego that we are endlessly fortunate to have: the absolute BEST Mexican food. You can't travel far in San Diego without seeing a place to get your fix of  authentic Mexican cuisine. Now we all know we never need a reason to indulge in a burrito or some street tacos, but it should be absolutely mandatory with it being National Taco Day!
Last year, Americans ate over 4.5 billion pounds of tacos! National Taco Day is a day for people to express their appreciation and passion for this tasty meal we have all (well, hopefully all) tried. Taco, the Mexican equivalent for the English word, "sandwich" is enjoyed by millions all across the country. It can be enjoyed in all sorts of ways, with numerous different preparations that can satisfy even the pickiest eater. 
Amazing deals will be offered by restaurants all over the county in celebration of this tasty holiday. For those looking to enjoy tacos from restaurants exclusive to San Diego, Puesto is offering half off all of their tacos for the entire day. With locations in downtown San Diego and La Jolla, Puesto will be sure to satisfy your taco cravings with their fresh, locally-sourced ingredients and their fun family atmosphere. Visit their website, for more information on their locations and menu.
Rubios will also be offering deals for their delicious tacos. Fans of their beer battered fish tacos will be able to enjoy it for only $1.75 per taco. Their beer fish taco especial, complete with hand-made guacamole, cheese, and an onion/cilantro mix, will be available for a quarter more at $2.00. If you crave a little sweet and a little spice with your tacos, their fish taco with mango salsa will run you $2.25. Pair it with a Corona with lime and you'll be loving life.
On The Border will be a great choice for your taco celebration as well, with the restaurant offering crispy mini-tacos for $.50 each! Doesn't matter if you're a beef, chicken, or veggie fan, On The Border has you covered. Head over after work with coworkers, or treat the family to some fun and take advantage of this killer deal. Pair it with one of their amazing margaritas, and you'll be glad you decided to celebrate.
For those that want the most bang for your buck, Taco Bell is getting in the holiday spirit with their $5 taco boxes. Coming with 4 tacos, the $5 box includes their original crunchy taco, Nacho Cheese Doritos Locos taco, Cool Ranch Doritos Locos taco, and a Fiery Doritos Locos taco. Pair it with one of their Baja Blast freezes to subdue that heat from the Fiery Locos Taco, and you'll be good to go. This deal will take you on a ride with all sorts of flavors, and leave you a satisfied customer without breaking your wallet.
Wherever you decide to celebrate National Taco Day, snap a photo of your tacos and share it with others who are celebrating with #nationaltacoday. Enjoy those tacos!