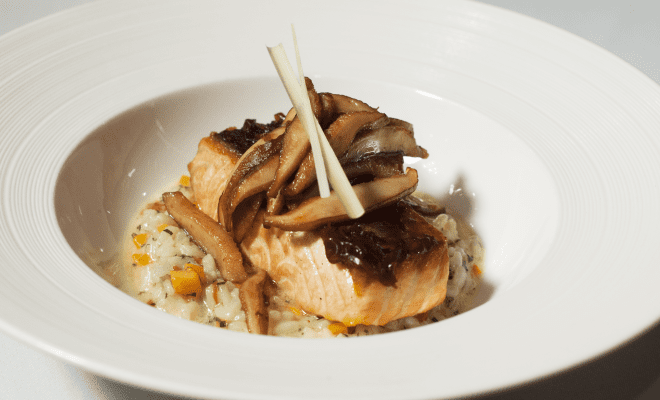 Dining
San Diego Chefs: Soy Glazed Scottish Salmon from Bellamy's Restaurant
By
|
The SD Entertainer has teamed up with Bellamy's Restaurant in Escondido once again to introduce you to some of the best food the city has to offer. This week, we met up with Chef Jonathan Freyberg to learn the secrets of one of Bellamy's signature dishes, the Soy Glazed Scottish Salmon on top of a Lemongrass Risotto with Teriyaki Mushrooms.
Watch the video below!
Executive Chef Freyberg starts the dish by explaining that the restaurant uses a lightly seasoned cut down Scottish Salmon with the skin on.  To perfect the crunch of the crispy salmon skin, Freyberg uses a hot cast iron skillet to hear that "happy sizzle."  From there, the salmon gets put directly into the oven while the other elements of the dish are prepared.
We then watch as Jonathan starts creating the risotto with arborio rice, small diced yellow onion, red bell pepper, and carrot which is all deglazed with white wine. From there, chicken stalk and beurre blanc are added to the pan.  The risotto is then finished with butter, olive oil, and parsley.
"We use a whole bunch of lemon grass and we slice it super super thin and infuse it into the chicken stock during the cooking process"
The Shiitake Mushrooms are up next. Throw some oil in the pan, a small amount of butter, add shiitake mushrooms, and light seasoning with salt and saute. Finish the mushrooms with just a splash of Teriyaki Sauce.
"The shiitake mushrooms are sourced from our local mushroom farmer, Molten Metal Mushroom Farm"
From there the oven salmon is ready to go and given a ginger and soy glaze.  He plates the creamy risotto, followed by the glazed Scottish Salmon, and the teriyaki shiitake mushrooms, topped with a lemongrass garnish. Voila! The ginger and soy glazed Scottish salmon is made!
Stay tuned for more Chef Specials as the Entertainer continues to unravel the world of food and beverage of San Diego.
Bellamy's is located at 417 W Grand Ave, Escondido, CA.