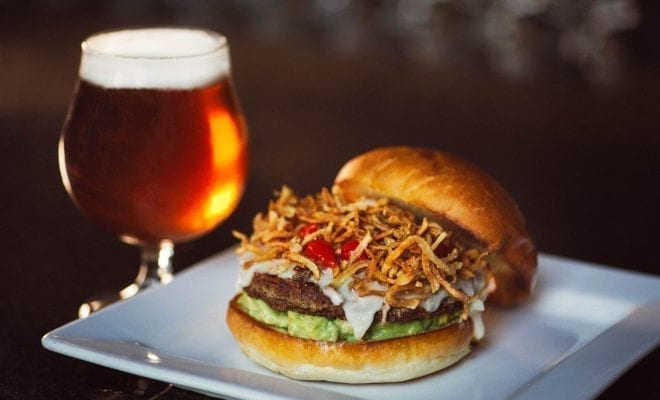 Dining
Stone Brewing World Bistro & Gardens now serving the Impossible Burger
By
|
Stone Brewing has brought the "Impossible Burger" to San Diego. This meatless burger joined the menu at both locations (Escondido and Liberty Station) in December and will be available for a limited time only. So anyone wanting to try it should get going before it's gone. If you haven't heard of the Impossible Burger before, it is a plant-based patty that is nearly indistinguishable from meat. While we haven't tried it (yet), it is said to smell, sizzle, and have the same texture and flavor of a regular burger, but without the pesky hormones, antibiotics, cholesterol and artificial flavors found in regular beef products. One huge benefit of the plat-based alternative is that it uses 95% less land, 74% less water and creates 87% less greenhouse gas emissions than ground beef from cows.
Stone is well known for its great beer and equally great food. They have been recognized for their commitment to responsible sourcing of high-quality ingredients and for being an all-in-all really cool place to drink and dine. The Impossible Burger is the latest ground-breaking example of Stone's commitment to quality and innovation, not to mention sustainability.
"We are in a new era of consumption, one in which we cannot ignore the impact our habits have on our planet," said Greg Koch, Stone Brewing executive chairman & co-founder in 2006. "Today we find ourselves in a time of thriving innovation in which companies like Impossible are finding revolutionary ways of moving forward without sacrificing excellence. Freshness, quality and innovation are the foundation of Stone's beers and our food has always been sourced, prepared and served with the same high standards."
The Impossible Burger brings the heat at flavor to the table. With smashed avocado at the base and sunchoke straws at the top, the Impossible patty is smothered in Hellfire Cheese (house-made Oaxaca cheese fondue with habanero and Thai chilies) and Peruvian peppers, all served on a brioche bun. The burger is served with a side of crushed baby gold potatoes with roasted garlic & ancho aioli.
The Stone Impossible Burger is available for a limited time at both San Diego locations for $17.
When asked for the ultimate beer pairing to accompany the new burger, Stone's senior innovation brewing manager, Jeremy Moynier replied, "Our brand new Stone Scorpion Bowl IPA paired with our Impossible Burger is a home run. Stone Ripper and Stone Tangerine Express IPA were also awesome pairings with their myriad of fruit aroma and flavors complementing the complexity of the dish. The burger is INSANE! Really good."
For more information on the Impossible Burger visit Impossiblefoods.com/burger and learn more about its special ingredient. For menus and location details of Stone Brewing World Bistro & Gardens – Escondido and Stone Brewing World Bistro & Gardens – Liberty Station, visit StoneBrewing.com/visit.