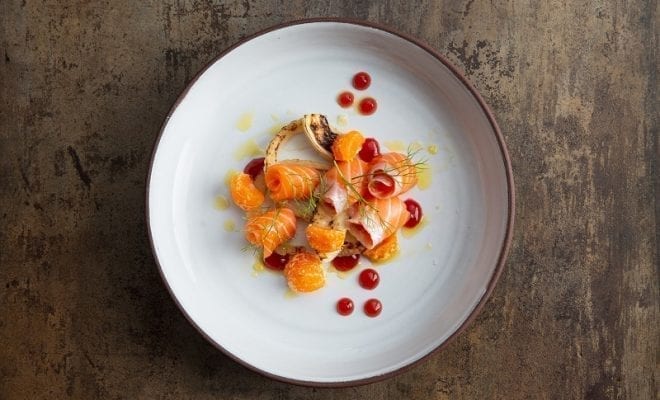 Credit to Sam Wells
Dining
Liberty Public Market to Welcome Sustainable Fast-Casual Hand Roll Bar Concept
By
|
It's officially 2019 – the year that gourmet fare and sustainability will make an even larger impact within San Diego's food scene. Coming this February, Hold Fast, a fast-casual hand roll bar concept within Liberty Public Market, will be joining the city's roster of responsibly sourced dining locales.
The hand roll bar will debut as the third concept from Chef Rob Ruiz, who also owns The Land & Water Co. and The Charles Kenneth in Carlsbad, CA. Over the last two decades, Ruiz has remained steadfast in his mission of ocean conservation. Among international public figures and philanthropists, he received global recognition for his efforts in improving the seafood industry at the 2016 Ocean Awards in London. This year, Ruiz will become the first chef in San Diego to be certified by the prestigious James Beard Smart Catch program for his achievements in sustainability.
With two existing concepts in North County, Executive Chef Rob Ruiz will be officially expanding his culinary offerings into the popular Liberty Station neighborhood next month with the debut of Hold Fast. He vows to reconnect the San Diego community with the local commercial fishing industry. "Whether you are a visitor or a local, dining at Hold Fast means you will be contributing to the preservation of San Diego's rich fishing heritage. Together we are supporting traceable, responsible and sustainable fishing practices here in San Diego for the good of the environment and for future generations," Ruiz shared.
The fast-casual eatery will be located within Liberty Public Market, the city's premier food hall which currently houses over thirty local culinary tenants. Ocean-lovers and sushi-aficionados alike will celebrate Hold Fast's menu of gourmet hand rolls, sashimi, and custom small plates. Featuring the freshest catch from fishermen who dock within walking distance to Liberty Station, the restaurant will showcase a daily changing menu centered on seasonality. Hold Fast will also utilize organic produce sourced from San Diego County farmers as well as specialized short grain rice grown in California. Additionally, in alignment with Ruiz's dedication to zero-waste, the hand roll bar will compost all organic materials.