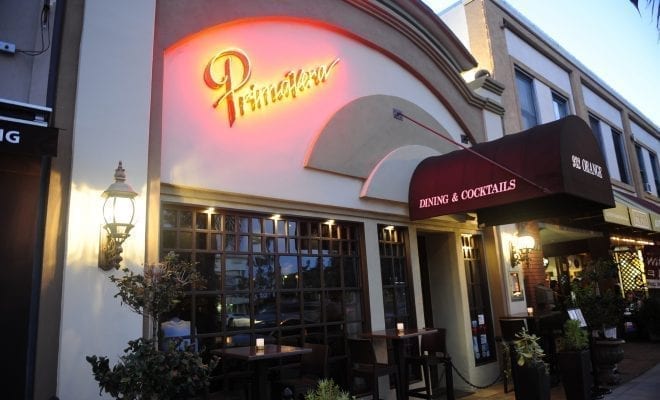 Dining
Leave the Gun – Take the Ravioli
By
|
Dinner on Coronado Island is always a good idea and the drive there is a good time. Ocean and city skyline views as you drive over the bridge? Forget about it. To make that good time a great time, kick the night off with a dirty gin martini at Primavera Ristorante. Located in the heart of Coronado, this staple spot has been serving up Northern Italian cuisine for 30 years – and rightfully so. Everything is fantastic. The service, the ambiance, the food… all of it.
My pal and I are seated underneath a bougie but beautiful chandelier in the back corner of the restaurant. The table was right out of The Godfather – which was perfect because we turn our back to no one. We felt like the Corleone brothers and that was absolutely ok by us.
After tossing back our gin concoction we order up a couple glasses of the Simi cab and slathered butter on warm bread while perusing the menu. Everything looked amazing. Paúlo (Paul before drinks, Paúlo after a few) took care of us. The man knows a thing or two about a thing or two, if you know what I mean. We heeded his picks and settled into our corner table while the guys in the back of the house got things going.
First up: scampi alla griglia and polpo al limone. The jumbo scampi are wrapped in crispy pancetta and served swimming in a citrusy reduction made with lemon, white wine, and paprika. Grab another bread roll and sop up that heavenly sauce. It's what angels bathe in. Hell, I want to bathe in it. We all should bathe in it – life would be significantly better if we did.
The second app is the grilled Spanish octopus. These tentacles are tender, meaty and monumental in size. Accompanied by a nice chimichurri and lemon dressing, it livens our palates before the mains. So, on our bougie night out we opt for two bougie entrees: ravioli di aragosta and the filetto ai funghi di bosco. English please? Lobster ravioli and filet with mushrooms.
The grilled filet mignon is cooked to a perfect med-rare and served with wild mushrooms in a brown brandy sauce. And my God, is it good. My mind went blank with the first bite. And the lobster ravioli? Fluffy, surprisingly light and packed full of lobster meat. The pasta is perfect. I say leave the gun and take the ravioli – screw the cannoli.
Just when we thought we were out, they pulled us back in – with the lava cake, that is. Yes, this basic bitch dessert is a staple from the 80s but there's a reason for that. It's because it's damn delicious. Who doesn't like hot, gooey chocolate pouring from the center of a rich, round cake? Insane people, that's who. Don't be insane and get the cake. Our bellies were full of some damn fine fare and a few glasses of wine. After saying goodnight to the staff – who treated us like family – we made our exit and retreated to the other side of the bridge. I may or may not have watched The Godfather before knocking out for the evening.
The restaurant is celebrating its 30-year anniversary with a specialty five-course dinner on Tuesday, June 25, donating a portion of the evening's proceeds to 22KILL, a nonprofit organization that raises awareness and combats suicide by empowering veterans, first responders and their families through traditional and non-traditional therapies. If you haven't been, this might be the perfect occasion for you to check them out.
Primavera Ristorante is located at 932 Orange Avenue, Coronado, CA 92118.