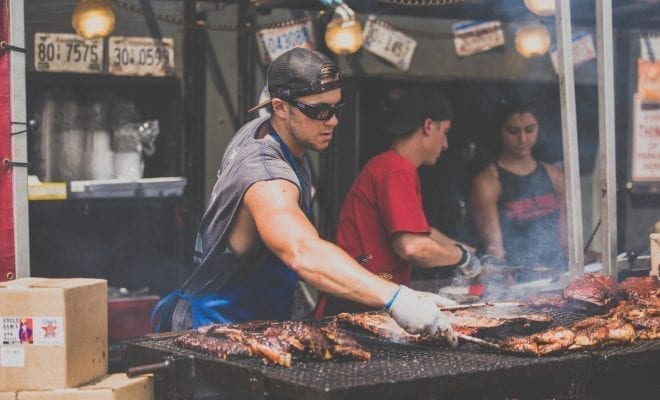 Dining
Finger-Lickin' Good BBQ Restaurants
By
|
You don't have to be from the south to crave barbecue. The rich flavors of bbq sauce (or rub), tender rib meat, and a side of mac n' cheese brings comfort like no other. Get some inspiration for your upcoming summer barbecues, by trying different sauces and recipes at bbq restaurants around town. Everyone does barbecue their own way, so try them all until you find the one that hits the spot.
Phil himself invites you to come take part in "the 'Phil's Experience,' which basically comes down to organized chaos." Find out why people wait in line to taste a bite of Phil's famous recipes. At the young age of 18, Phil opened up his first restaurant in Ohio, selling his delicious ribs to his community. He created a rub that he calls "gooba dust" that he continues to use and sell at his restaurants today. Come in for a bite or order Phil's BBQ for your next catered party. Either way, you won't be disappointed.
Famous from its scenes in the movie classic, "Top Gun", this bbq restaurant attracts visitors to re-live their Goose and Maverick fandom days. Check out their eclectic decor inside their shrine. Museum curator Jerry will take you on a guided tour (for tips) and show off the donated memorabilia that the store has collected over the years. Come in for sliced beef brisket with slaw and beans, and leave with some Top Gun gear of your own. The restaurant has been around for 30 years, which proves that locals and visitors alike have appreciated its delicious quality.
Only a few steps from the beach, BBQ House offers an open-air space with edge seating to enjoy nightly people watching. Most of their entrees are between $7-12, making it a reasonable choice for a family night out. Their outdoor seating is dog-friendly, so share a couple bites of your mouth-watering beef with your canine friend. Choose a meat (beef brisket, pulled pork, jerk chicken, or pit ham), and pair it with the sauce and style that you are craving. And be sure to treat yourself to a couple deep fried Oreo's for dessert.
At Bubba's, once they are out of food, the shop closes up. This family-owned operation is dedicated to bringing their customers the best flavors in food and drink. They understand their crowd's love for San Diego craft beer, and offer incredible deals for happy hour, daily from 3-7PM. On your first visit order The Bubba sandwich–pulled pork and chopped beef brisket, topped with a hot link sausage and Bubba's sweet BBQ sauce. Their sides range from steamed broccoli to red skinned potato salad to sweet potato fries. Get a little something for everyone. Grab a bib and some hand wipes and dig in!