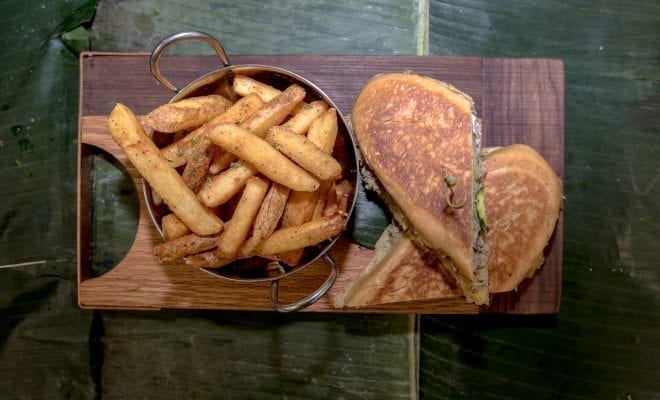 Dining
San Diego Tour de Cubanos – Your Guide to the Best Cubano Sandwiches in the City
By
|
I took a bite off my parent's Cubano when I was younger and disliked the flavors as much as I opposed sauerkraut on hot dogs or sardines on pizza. They were odd ingredients, and I thought my parents were odd for liking them. Pickles, mustard, ham, pork and Swiss – not for a child's palate… or was I just an idiot? I was an idiot. They are the best damn combination of flavors to be sandwiched between bread, in my opinion. To make up for missed opportunities over the years, I hit up friends and foodies for their chosen Cubano spots in San Diego. I spent two weeks eating a slew of these sandos and found four affordable favorites. And before anyone loses their wits about what makes a classic Cubano – this is a snob-free review. The bread ranges. Cool? Cool.
Embargo Grill
This Caribbean-inspired spot opened about five years ago and they sling everything from meats and fish to sammys and salads. Added bonus: they also serve sangria and beer (winning). I was here for the Cubano, obviously, which is priced at a sweet $7.95. This stacked sandwich houses marinated, slow-roasted pork, juicy ham, thick-cut pickles, two slices of Swiss and a spread that dreams are made of: mayo, mustard and garlic. First bite and I was in love.
Irwin stopped by to chat about the history of Embargo and some fun facts about Cubanos. He walked us through the basics of the marinade, which mix garlic, cilantro, oregano, orange sour, vinegar, S&P, and laurel leaves, along with a few other secrets. Royal purple walls add a colorful touch to the space and chandeliers made of multi-colored light bulbs bring just the right amount of quirkiness. Enjoy your meal on tables plastered with historic photos of old school Cuba while zoning out to the sweet, sweet sounds of the Caribbean with their festive tunes.
www.embargogrill.com
@embargogrill
The Smok'd Hog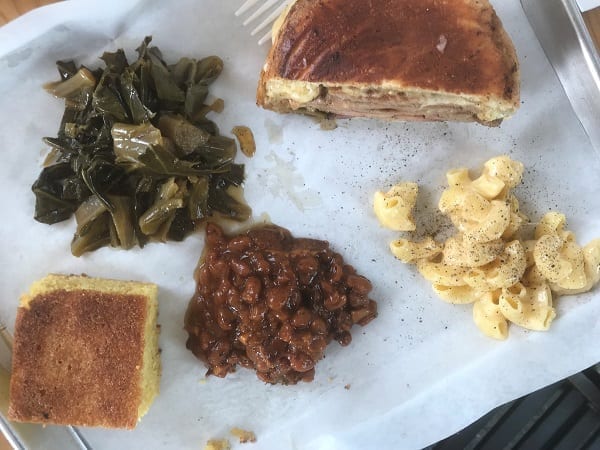 Like daddy always said, 'There's more than one way to skin a cat.' Ain't that the truth down at The Smok'd Hog. Not your typical Cubano, this one will hit home for any Southerner as it most certainly tugged at my Georgian heartstrings. The sammy seemed to be pulled straight from the smoker, slapped with some thick cut meats, pork shoulder and Swiss, then rubbed down with scratch made garlic aioli and Dijon mustard, creating one epic masterpiece.
Chris, one of the men behind the magic, filled the table with sides on sides on sides. The corn bread was sweet with a crunchy, glazed top and warm middle. I felt I was getting a much-needed hug with each bite. The collards were the perfect balance of bitter and savory, while the mac 'n cheese took my lunch companion on a euphoric journey with each bite. This place is super small with only a few tables and barstools. All the better to moan and groan as you make your way through the smoked goodness without so many eyes and ears on ya'. $10.50 for the Cubano. No charge for the added notch on the 'ol belt buckle.
Miss B's Coconut Club
Located in the heart of Mission Beach, Miss B's serves up Caribbean-inspired fare like jerk chicken and curried coconut shrimp by la playa. The vibe here is fun. Very fun. I sipped on a rum-infused cocktail concoction served out of a coconut (so I felt healthy) and ordered up an El Cubano. This bad boy is stacked. You've got lechon asado, smoked ham, gruyere cheese, bread & butter pickles, spiced mustard, cilantro and garlic aioli pressed between a Cuban roll. Oh, hell yes. The sandwich isn't a la cart, but served with thick-cut seasoned fries, making the price tag a little higher at $14, but well-worth it. The infusion of flavors hit it out of the park, with a creamy finish from the gruyere.
Chef Troy made the Cubano with love, which was apparent with every bite. Whatever you decide to eat here is best paired with a cocktail, as they have a kick ass list. From a Hotline Ting to The Papaya King housed in vessels like flamingos and skull heads, you're bound to have a good time while eating great food. Walk off that rum-infused buzz with an easy afternoon stroll on the beach.
www.missbcoconutclub.com
@missbcoconutclub
Azúcar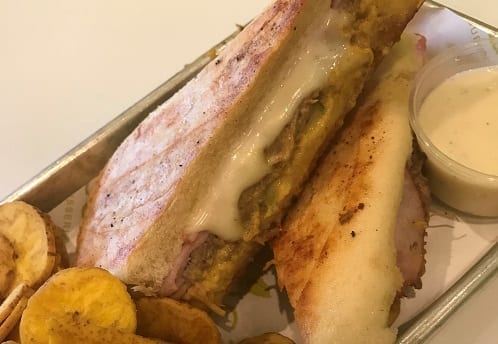 Ocean Beach isn't typically associated with must-visit restaurants but rather a place to find Kombucha on tap and Starbucks protestors squatting on street corners. However, Azúcar is a Cuban style patisserie nestled on Newport Avenue offering quick bites and heavenly sweets. It was a rainy day outside and our bellies were empty. We ordered at the counter, pulled up a barstool and within minutes our Cubanos came piping hot out of the kitchen. Perfectly pressed and paired with plantain chips (really trying to bring that alliteration home), be prepared to burn through napkins. The juices from the meats drip out while you grub on the Cubano.
People will feel happy here. Pink flamingos are painted on the walls, smiling down at you while you dig into indulgent sweets and sandwiches. What more can you want from life? I love this place. You will, too.
www.iloveazucar.com
@iloveazucar
Sidebar, if you haven't seen the movie Chef with Jon Favreau, you should. It's awesome. He has a love affair with the Cubano, which drove me to write this review.