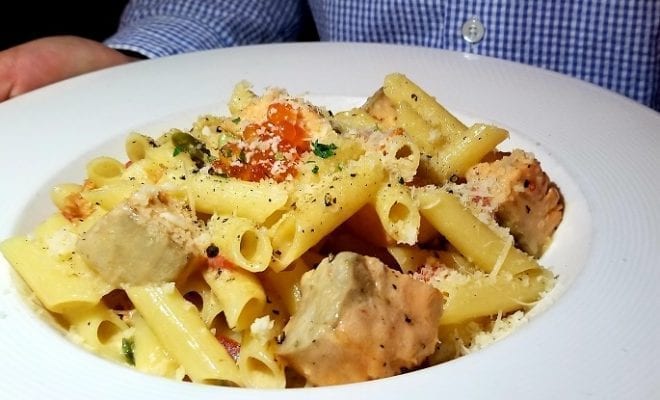 Primavera Restaurante - Coronado. Courtesy Photo
Dining
Coronado's Secret Gem: Primavera is Timeless
By
|
For almost 30 years in the heart of Coronado, Primavera Ristorante has been serving up Northern Italian cuisine to generations of in-the-know locals. As Coronado's first independent fine dining restaurant (outside of the hotels), Primavera has seen their share of special occasions. But more than just birthdays and anniversaries, Primavera has served as a place for families to come together, removed from the distractions of the outside world. On any given night, a handful of seats around the restaurant are occupied by regulars who have been coming for 29 years. Some still order dishes off the original menu, and the chef obliges.
General Manager Denise Stavros has grown up at Primavera and has seen the community grow up with it.
"One of the best parts of having a long-standing establishment such as Primavera is watching our guests grow with the restaurant. We're so proud of how many loyal customers we have, from our guests who live on the island to those who visit us whenever they're in town. We're also now starting to see the younger generations of families who have celebrated many occasions with us in the past start to come in with their friends and family."

-Denise Stavros
Primavera opened July 4th weekend 1989 and was founded by Cristos and Jeannette Stavros, Denise's parents. Family is at the heart of everything Primavera does. Their most popular dish, Osso Bucco, is a family recipe that goes back generations, featuring slow-braised veal shank in a broth of vegetables and white wine.
In addition to the traditional, long-standing dishes, the menu does change with the seasons. A few highlights of the late-summer menu options include the fresh Prosciutto e Melone. This shareable starter will keep you feeling like summer with sliced seasonal melon with imported prosciutto and Bufala mozzarella. This delightful dish could only be made better by changing out the mozzarella for burrata to combine the flavors flawlessly. Another great option to snack on over drinks is the Avocado alla Griglia. Grilled shrimp, avocado, artichokes hearts, and toasted crostini are accented with a lemon herb vinaigrette.
Before it leaves the summer menu, make sure to try the Penne alla Salmone. A perfectly balanced pasta dish (with gluten-free option), pasta is tossed with salmon, asparagus, tomatoes, salmon caviar and Sherry wine sauce. For a heartier dish to lead you into fall, try the Pappardelle alla Bolognese. The ragu is made from veal, pork and beef, topped with dried chili oil and mascarpone to add the kick and creaminess.