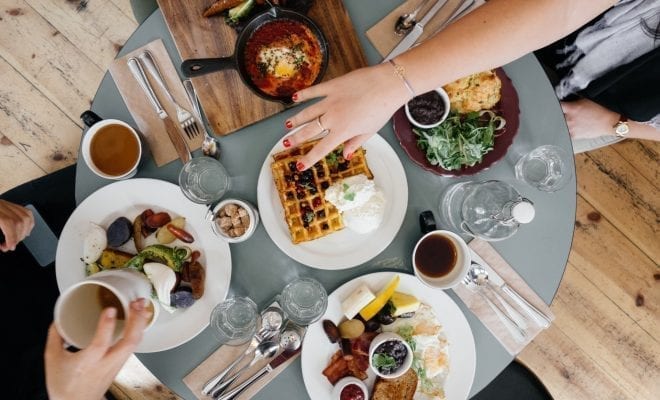 Dining
San Diego Comfort Food Favorites
By
|
Some days call for comfort food. We don't judge. There's something about giant homemade biscuits with a creamy gravy, or ridiculous sized ice cream scoops on top of your waffles that just makes us feel like we can conquer anything–until minutes afterward when we realize we are in a food coma and can't move.
For the days when you need that greasy spoon overload, San Diego has got you covered.
Take a trip back with Marty McFly and step into this 1940's neon studio haven. Set on the former lot of Stu Segall Productions, which produced dozens of films including: "Bring it On", "Flying By" with Billy Ray Cyrus, and the T.V. film "I Married A Monster." In addition to its movie set charm, this restaurant has the diner comfort food you are craving.
We recommend:
Blockbuster Combo Platter – onion rings, studio fries, fried pickles, chili topped buffalo wings, potato skins & mozzarella sticks; served with dipping sauces
Black Cow Shake – vanilla ice cream with chocolate syrup
When you are in the mood for some good home cooking, but don't have the opportunity to go home to mama's house, The Huddle is a great alternative. If you appreciate details, this brunch diner puts extra care in making an exquisite strawberry rhubarb jam. Warning: you may want to spread it on everything that you order.
We recommend:
Chicken & Waffles – a hefty helping of deep fried chicken on top of a plate-sized waffle
Hot Chocolate – the classic topped with an unbelievable amount of whipped cream & sprinkles
When it comes to comfort food, pancakes are the queen. Although there are other breakfast delicacies at this joint, including a traditional Monte Cristo and Machaca burrito, the restaurant's name itself will point you in the right direction for their best offering. The family owned restaurant that serves 24 different types of pancakes has been opened since 1959, a restaurant doesn't last that long on accident!
We recommend:
Churro Pancake – pancake blended with a cinnamon sugar mix and topped with condensed milk
La Quinta-Rita – La Quinta agave wine and margarita mix, garnished with salt
Happy eats!