Dining
Build Your Own Gourmet Chocolate Bar at Eclipse Chocolate
By
|
Located in an unassuming building just off 30th Street in South Park, on the corner of Fern and Ivy, is a cafe/bar/chocolate shop that is doing something right, especially when it comes to chocolate.
Owner and chocolatier Will Gustwiller began making his unique confections in 2004. By 2007 he opened a dessert cafe on El Cajon Boulevard. He and his team relocated to South Park in 2013, where they serve nearly 100 different handcrafted confections and pastries. The shop also features a full-service restaurant. But that's not all. Just past the bar and down a hallway you will find a small group area which serves as the location for Eclipse Chocolate's events. The room is available to rent for group parties, but on select Thursdays this event space turns into a chocolate-lovers paradise.
Gustwiller explained, "In previous years, we hosted Build-a-Bar Workshops annually to celebrate Eclipse Chocolate's anniversaries, most in Fall 2016. When more than 400 people attempted to sign up for our last workshop I realized the Build-A-Bar concept needed to be more accessible, as a monthly event and as an online option."
At Eclipse Build-a-Bar workshops, guests can design and create two custom chocolate bars featuring Eclipse's creamy milk or dark chocolate. One beverage is included in the cost of the event; with various red and white wine options and a 30th Street caliber beer list, there is something that will definitely pair well with the left over chocolate that doesn't quite fit into the molds used to make each bar.
Once you're checked in, a friendly staff member will show you to the back room, provide you the two labels you can customize, and offer a menu. Food is purchased on your own, but servers will come around to take your order. When we visited Eclipse, servers appeared to be a bit busy and service at the start of the event was slow. Once everything got started, service improved and the wait staff seemed less overwhelmed. The evening started with a glass of house red wine and a couple appetizers. You can't just eat chocolate, can you?
Speaking of chocolate…Eclipse's chocolate is amazingly high quality. The choice of ingredients that can be selected to mix into each bar is exceptional as well. Each bar can have three mix-ins, and guests can select their perfect combination of flavors. Mix-ins included everything from fruits (like goji berry, strawberry and blueberry), salt (cinnamon, serrano and lavendar are just a few examples), sugar (like vanilla, basil and smoked sugar), coffee beans, chile, toffee flavors (like caramel butter toffee cashew butter toffee to name a few) and much more.
If you have trouble coming up with a combination, a chocolate consultant is available to make sure you're not creating an unpleasant confection. We created a lavendar sea salt, blueberry and candied cocoa nib bar with their dark chocolate and a toasted pecan, camel butter toffee with smoked moscato sugar.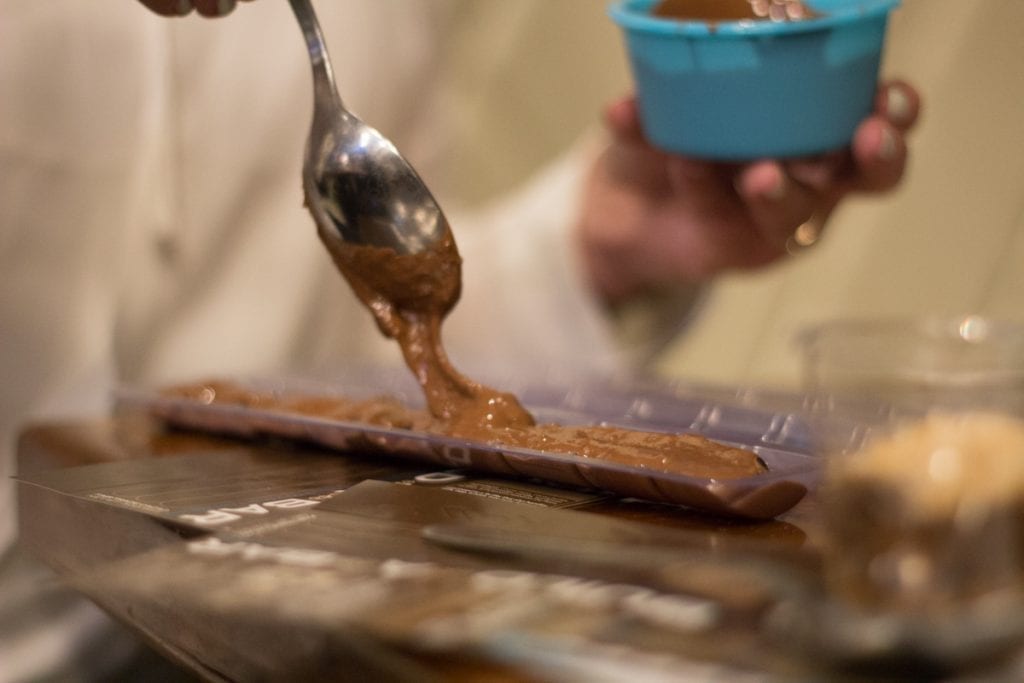 Once we chose our ingredients, the chocolate consultant portioned out the mix-ins and gave us an ice cream scoop sized dollop of chocolate. You dump the mix-ins into the chocolate, stir, and then pour the mix into a mold. Tap to remove the bubbles, and it goes into the fridge to set. While you wait, don't be afraid to spoon out the left over chocolate that didn't make it to the mold. Or, if you're bold, get your finger (or tongue) in the rubber bowl and really get after it. When melted, the chocolate is intense and rich. Once chilled, the flavors meld a bit better and you can really pick out the flavors of your mix-ins.
Build-a-Bar workshops are lots of fun. Not only will you enjoy the experience itself, but you get to leave with a tasty treat. Enjoy your flavors yourself, or they make a great personalized gift.
Live outside of San Diego, but still want to get your hands on a custom chocolate bar? You're in luck! Head to www.eclipsebuildabar.com and you will be able to craft your own artisanal chocolate bar at $10 per bar or 3 for $25. The only downside is you can't lick the bowl.