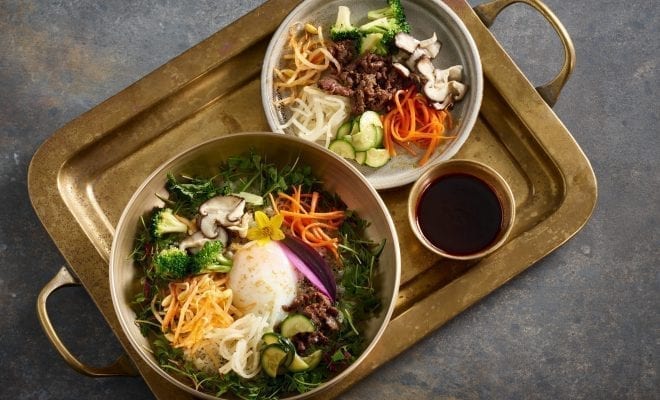 Dining
Bibigo Kitchen brings fresh Korean flavors to San Diego
By
|
While San Diego is littered with taco stands and burrito joints on every block (not complaining), you'll be hard pressed to find authentic Asian cuisine outside of the Convoy neighborhood. For bold delicious and fresh flavors, Bibigo Kitchen is your new go-to. Fashion Valley mall's newest fast-casual eatery offers clean eats, a wide range of tea assortments, and a BBQ platter that will blow your mind. They've even partnered with Impossible Eats to offer vegetarian and vegan options as well.
Their Fashion Valley location marks the first sit-down restaurant of the eatery's franchise. The space is bright and modern to match their cuisine. A communal style wooden table stretches along the center of the room, and an open kitchen creates an inviting space. Sleek wooden walls and white counters make the space feel like home.
We stopped in for a bite at the Korean eatery, and here's a rundown of our favorites:
To start, the mandu sampler satisfied everyone at the table, but the crowd favorite was the Galbi and shrimp Mandu. This pan-fried Korean style dumpling was stuffed with beef, pork, shrimp, green onion, cabbage, carrots. Be sure to get the dipping sauce – it's phenomenal.
The Bibimbap is a must when dining Korean. The hot stone bowl keeps the rice warm and the variety of vegetables brightens up the bowl in color and flavor. Be sure to add the kimchi for a nice touch of tart that isn't too spicy. Bibigo Kitchen also partnered with Impossible foods, offering a vegan patty that can substitute any meat option.
Their beverage menu boasts unique teas, craft beers and Korean liquor, but what is most impressive is their hot tea menu. With flavors like turmeric mango and blue jasmine, their variety of teas are a perfect pairing to any dish.
Their dessert, Injeoimi Tiramisu, was a very non-traditional Korean dessert. The Injeoimi powder that sits atop the tiramisu pudding is made from pulverized roasted beans. Side note, Injeoimi powder is often seen dusted over the Japanese rice dessert, mochi. The dish was topped with what tasted like crispy breakfast cereal. The combination of flavors and textures made for a satisfying end to the meal.
Fashion Valley's newest eatery is a must-try in our book. Skip the greasy take out and head over to Bibigo Kitchen for a fresh and flavorful meal.