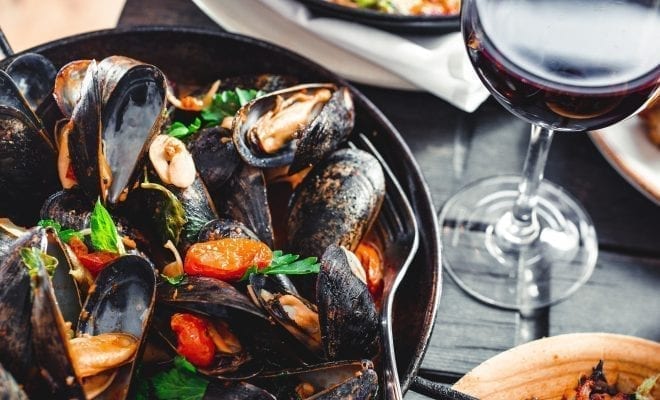 Dining
New Spring Menu Blooms at STK
By
|
Several new steakhouses have popped up since last summer's opening of STK, but it's time to revisit the modern, glamorous STK to check out their new spring additions to the menu. While traditional steakhouses stick to heavy, hearty preparations, STK has taken a fresh look at a spring menu that incorporates seasonal ingredients and crisp flavors.
To start, try the seared sea scallops, accompanied with salt spring mussels and a delicious mole verde sauce. In the center of the two scallops, thick smoked bacon adds depth and richness. Also new on the menu is the beet and farro salad served with goat's milk ricotta, pistachio, and beet green pesto, and burrata toast served with spring peas, serrano ham, and spring onion.
It may feel like blasphemy to order a vegetarian entrée at a steak house, but the truffled spring pea risotto might change your mind. You'll love the hearty risotto made with fresh truffles and wild mushrooms, finished with a green garlic arugula pesto. Or, for a great fish option, try the Alaskan halibut. The wild halibut is grilled and served with chanterelle mushrooms, delicate English peas, and ham soubise, finished with mache. Also new on the spring entrée menu is the Colorado rack of lamb served with roasted cauliflower, harissa, spice yogurt, green lentils, and sumac, and the grilled Maine lobster with wild morel mushrooms, asparagus, and roasted spring onion.
Of course, the steaks remain as delicious as ever. STK gets their beef from their own cattle, which are grass fed and then corn fed the last three months. Try their famous dry-aged 14 oz. Delmonico, a bone-out ribeye aged 45 days, or a New York Strip topped with truffle butter. Pair it with Justin Cab, served by the glass, or one of their unique cocktails. Perfect for spring, the Cucumber Stiletto features Ketel One citroen with St. Germain, muddled cucumber, and mint.