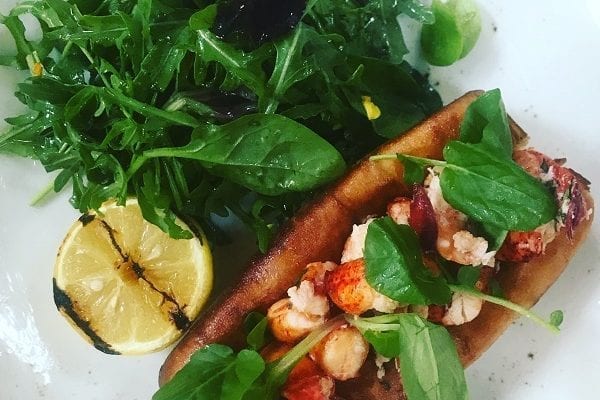 Herringbone La Jolla
Dining
Best Of San Diego: Claw Me That Lobster Roll
By
|
"Red sky at night, sailors' delight. Red sky in the morning, sailors take warning." An old mariner's saying I've heard and loved since I was a wee little one. There's something romantic about fisherman battling rough seas, reeling in fresh catch the size of an adult human and filleting it up right on the boat. Locally, we have legends like Tommy Gomes and the crew at Tuna Dockside Market to share the craft, among others. It's easy to become mesmerized while watching the men and women at the Saturday markets handle their catch down by the harbor. Seafood has always been a go-to for lunch or dinner. Hell, even breakfast. Lately, I've had a hankering for Lobster Rolls, and with National Lobster Roll Day on September 25th, I decided to take my craving out for a spin and fulfill it with some of San Diego's finest. These are my picks.
Herringbone La Jolla
The courtship between Herringbone and I began with the décor. Surrounded by whimsical trees, brick and wood interior, twinkle lights and the soft drum of Radiohead playing in the background, this place is a little slice of Heaven. And if I was in Heaven, then the lobster roll was God. Warm, house-made brioche hugs the juicy and tender lobster meat. A hit of lemon, melted butter and fine fresh herbs including parsley, chervil and chive make for one epic sandwich. The lobster is flown in from Main and sustainably sourced. The brioche is crispy, soft and buttery. It's served with a light salad so you aren't weighed down by unnecessary carbs. It's perfect. And I want to live here.
Pro Tip: Visit during National Lobster Day. They're offering a special for these bad boys at $25, which includes a glass of rosè. Also, order the oysters.
Insta: @herringboneeats
herringboneeats.com
Location: 7837 Herschel Ave., San Diego, CA 92037
Lobster West Coronado
Bridges make me nervous. The Coronado bridge is no exception. But knowing that Lobster West is on the other side makes everything OK. This no-frills lobster joint dishes out fantastic rolls in a small space. They serve wine and beer, so you can enjoy a drink while you wait for your roll and another one to wash it down. The patio is a nice place to post up for said situation. Now about those rolls though. City Rose Bakery deliveries the brioche bread fresh every morning, specially made for them. It's toasty, crisp, soft and light. The lobster meat is thick, salty and buttery. It's beautiful. A slight wisp of mayo and it's done. You really don't need much else, but the baked beans and slaw make for nice side options.
Insta: @lobsterwest
Lobsterwest.com
Location: 1033 B Ave #102, Coronado, CA 92118
Cousins Maine Lobster
This spot is rad. If you're looking for an alternative to the restaurant scene, hit up the food trucks around the 'hood. Cousins moves around throughout the week and claims a new spot daily. I found them at Civita Park and had a hell of a time. There was live music, good vibes and phenomenal eats. A grey evening and cooler weather made for the perfect setting to have a small lobster roll and cup of chowder. The hot dog bun had a buttery base and hefty chunks of claw meat. Citrus hits a little hard from their house-made spread, but it gives it a little attitude. I like attitude. Cousins is #BadToTheBone and I dig it.
Insta: @cousinsmainelobster
cousinsmainelobster.com
Check out their schedule online to find out where to find them!
Supernatural Sandwiches – Miramar
Lobster roll after lobster roll, one might need to change the game a little. Supernatural Sandwiches has your back with their eclectic menu and Asian twist on the classic roll. Tony the owner said get the Cthulhu so we got the Cthulhu. Damn good call. This beast is made with a quarter pound of knuckle and claw lobster meat and topped with umami butter. The lobster is sous-vide in fish sauce for an extra hit of ocean and then sprinkled with Za'atar, spices from the Middle East. Fried garlic on top and a roll from Bread and Cie – mind blown. Go carb crazy and get some fries to hang out with your roll – they're thick cut and seasoned to perfection.
Insta: @sprntrlsandwich
supernaturalsandwiches.com
Several locations with the newest one in Pacific Beach
Beerfish
Oh, Chef Lety, you've done it again. Head into Beerfish in North Park on a Wednesday and grab their fatty lobster roll doused in butter, all the butter. I parked myself on the patio and drifted away with thoughts of Puerto Nuevo. It's easy to daydream here with a cold beer in hand and breezy feels. This roll is a classic: sweet lobster meat, chives and brown butter aioli made with a squeeze of lemon. Simple. The claw meat is aggressively large, which makes everything in life better and the atmosphere is laid back. Check them out on Instagram to find out what specials will go down for National Lobster Day.
Insta: @EatBeerFish
beerfish.com
Address: 2933 Adams Ave., San Diego, CA 92116
This was a simple nod to the men and women who catch us those delicious, spiny creatures and to those who slather them with butter and bundle them up in bread. I realize I hit all Connecticut-style rolls, but that's my jam. Not much of a mayo gal. #SorryNotSorry
Like a red morn that ever yet betokened,
Wreck to the seaman, tempest to the field,
Sorrow to the shepherds, woe unto the birds,
Gusts and foul flaws to herdmen and to herds.

– from Shakespeare's Venus and Adonis