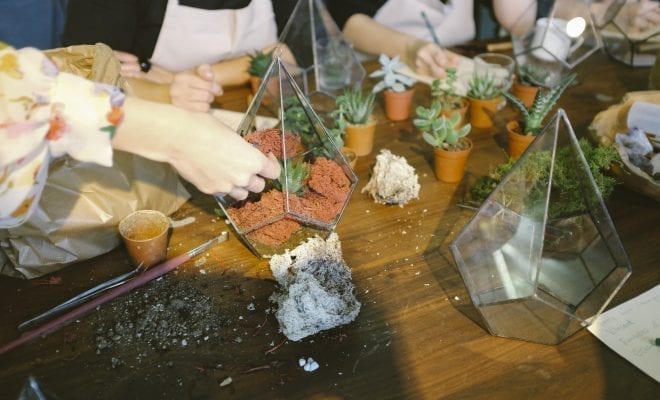 Arts
Become An Artist: Succulent Workshops Around San Diego
By
|
People have been obsessed with the desert the past couple of years. With Native American textile prints, trips to Joshua Tree and Anza Borrego, and of course the succulent craze, there is something that is drawing our attention. Perhaps it's our response to the drought, or our new appreciation for our native California culture. Whatever the reason for the new desert fascination, we aren't mad about it. It's inviting new artistic expressions and designs, including succulent arrangements!
Here are a few places in San Diego where you can engage in the art practice yourself and add some desert decor to your home:
Get inspiration for your succulent arrangement at Pigment in North Park. This gift store and floral shop is an indie designer's dream. Imitate their outdoor wall display, featuring hundreds of succulents in hanging pocket planters, or make your own terrarium with their sphere and vase-shaped containers and colored sand. Add a few succulents and air pots in the shop, and put a few trinkets and other finds in once you get home to make it your own. Need a little extra inspiration? Ask the floral expert, or watch their website for an upcoming class! 
The San Diego Botanic Garden hosts a wide array of plant species, with several different gardens on the premises. Included in their list of gardens is a garden dedicated to succulents. Come explore the different gardens and be encouraged to create a succulent display for your own backyard. This spring they are teaching class participants how to make a succulent Easter basket for your table or backyard, and a unique turtle-shaped succulent to add to your lawn decor.
Support the 36 library branches in San Diego by making a purchase from the Library Shop. Held at the SD Downtown city branch, the Library Shop is a collaboration between the San Diego Public Library system and the Friends of the Library. For Mother's Day they are holding a succulent workshop for you and your mom to get to create your long-lasting gift together! Why not turn your gift into an experience? All materials included.
Some of us just don't have a green thumb. Even though succulents are some of the most low-maintenance plants, they do still require some work. If you love the look of succulents, but have come to the realization that keeping plants alive is not in on notch on your tool belt, then this workshop is for you. Come learn how to make a paper succulent arrangement that will last for years and won't require any upkeep. Keep it on your desk at work or give it away as a gift. Once you've learned how to make one, all you'll need the supplies to make more in the future!
Sign up for a class with a friend, and learn how to make these beautiful displays. You never know, this could become your new favorite hobby!