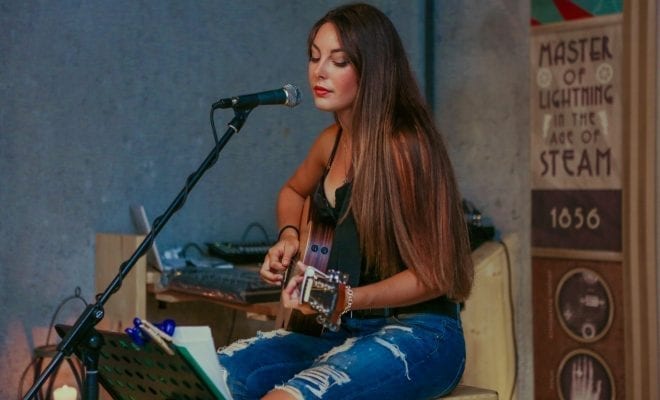 Arts
Open Mic Nights: A Place To Share Your Talent
By
|
Let's face it. Most of us have some hidden talents that stay hidden most of the time, unless we have outlets to let them shine. An 'Open Mic' is a great outlet for those who have an artistic bent, but don't have the pleasure of sharing their talent as part of their day job. Bring your poetry, comedy, and musical gifts to your neighborhood, and let your heart come alive!
Every Thursday night, Aztec Brewery in Vista invites locals out to participate in an open mic night. Come early to sign up for the night, and bring your musical, poetic, or comedic talent to the stage. Delicious tacos are available for purchase from local Leo Garcia's company Mexico City Cuisine, as well as Aztec's own house-brewed beer.
Thursdays from 6-10PM
Bring your talent outdoors, with this coastal cafe. The cute house-shaped cafe has an adorable outdoor patio for folks to share their passion with customers, beside an enclosed market light wall. Plan to show up around 6 to get your name in for the night, and who knows–a video of your performance might be shared on their Facebook page!
Thursdays starting at 6PM
Head to live music hub of Encinitas, with live music, spirits, and 'fine food.' Every Monday night, until the wee hours of the morning, Jay Cain hosts an open mic night for participants to rock out. Think music more than poetry at this open mic, and get ready to make some noise! Come around 7PM for sign-ups.
Mondays from 8PM-2AM
If the coffee shop vibe is more your style than a rockin' bar, bring your gear to Public Square in La Mesa. What stands as a coffee house during the day, has a whole different vibe in the evening. People pack into this space to listen to the talented songs, acting, magic, and other talents of those who live in the La Mesa neighborhood. Some nights even include pizza, yum! Get there at 6PM to sign yourself up.
Tuesdays starting at 7PM
Every Wednesday night, South Park Abbey opens its doors for a night of all-ages open mic. No comedy at this location, but other talents are encouraged to bring their best clean talent. Expect to have ten minutes to share whatever it is you have prepared. Sign-ups begin at 8PM!
Wednesdays from 8:30-11PM
We hope to see you out there, sharing your talent with the world, sometime soon!
"Use what talents you possess; the woods would be very silent if no birds sang there except those that sang best." – Henry Van Dyke