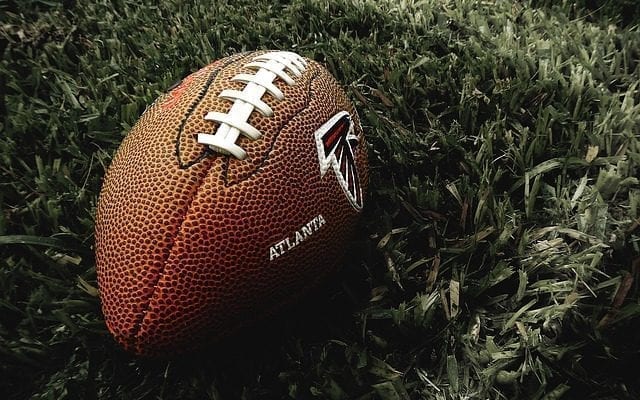 TV
Upcoming Football Games You Don't Want To Miss
By
|
Football season is in full swing now, as we enter into the 5th and 6th weeks of NCAA and NFL games. NFL teams are beginning to evolve and gain new rankings surpassing previous leaders of the league. Powerhouse teams like the Patriots are slipping with rocky starts to their first 4 games, while teams like the Bills have begun to show promise in becoming playoff contenders. The month of October is chock full of explosive match-ups, so here are some games you don't want to miss.
The New England Patriots and the Atlanta Falcons will face-off against each other for Sunday Night Football on October 22nd at 5:30 p.m.. This will be their first meeting since playing each other in the Super Bowl, which ended in a bitter loss for the Falcons, and a stunning victory for the Patriots. So far this season, the Patriots seem to be a shell of that Super Bowl team, currently with a 2-2 record. Tom Brady and Rob Gronkowski will be a major threat for the Falcons defense, along with Danny Amendola and Julian Edelman. On the other hand, the Falcons are seeming to still carry that fierce competitiveness of last season, with a 3-1 record and holding it down as 1st in the NFC South division. With Matt Ryan as quarterback, and a star receiving core comprising of Julio Jones and Mohamed Sanu, the Patriots defense will have their work cut out for them. The match-up is poised to be a passing shootout, so be sure to catch it this month.
For those who are fans of NCAA football, the San Diego State Aztecs will be playing the University of Las Vegas Rebels this weekend on October 7th at 10:45 With the Chargers gone from San Diego, the Aztecs have become the sole football team to play at Qualcomm Stadium. This season has shown that the Aztecs can still play with the same high energy after the loss of their star running back Donnel Pumphrey, as they currently ranked 19 in the top 25 teams in the nation. With a run game lead by Rashaad Penny, the Aztecs will be sure to pound the ball up the field. The Aztecs opponents, the UNLV Rebels, have had a harder go with their season so far. Currently sitting with a 2-2 record, and coming off a spectacular win against San Jose State, the Rebels will have a very somber reason to compete this game. Following the devastating mass shooting that occurred in Las Vegas during the late hours of Sunday, the Rebels have designated this game to be Heroes Night, in honor of the families and loved ones who were affected by the horrific event. Expect to see this game not only as a fantastic football game, but a community coming together, united in the ideals of sportsmanship and love.