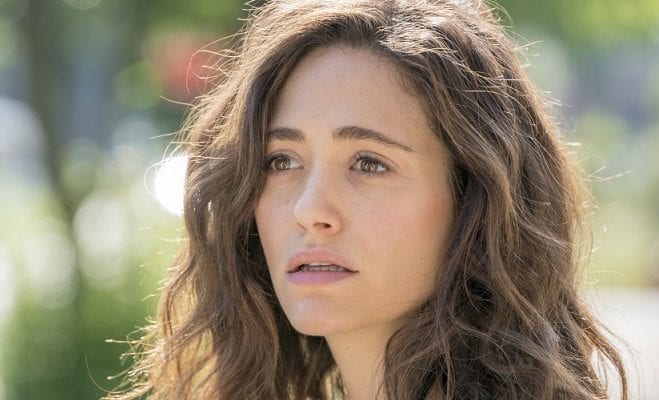 Photo Credit: Chcuk Hodes/SHOWTIME
TV
Emmy Rossum Is Saying Goodbye To Shameless
By
|
Shameless fans just got some pretty sad news. Emmy Rossum announced on Thursday that she will be leaving the show after the upcoming 9th season.
Rossum, 31, played Fiona Gallagher, the scrappy Chicago native who tries to keep her family together despite her absentee father Frank's (William H. Macy) hijinks.
In a lengthy Facebook post, she announced her departure from the show, writing,  "It's a hard thing to put into words, feelings. But I'm going to try. This business is always an adventure, full of travel and opportunities to tell stories. Usually as an actor, every few months, you travel to a new place, start a new project, build a new character, learn new rhythms, new inside jokes with your crew, make new friends."
"Until 'Shameless' came into my life 8 years ago, I led that kind of transient wonderful life of an actor. And I never realized how much I actually craved the kind of continuity that this show has given me. And given all of us in the crew. Season after season I'm amazed that our same crew comes back. And it's not just because it's a wonderfully written, wonderfully layered show. There are these real connections, real friendships that bring us back season after season after season," she added. "See, in real life, unlike Fiona, I'm an only child. I never had a big family. Being ensconced in that messy Gallagher family love is something I'd always dreamed of. But even offset, it feels real. We've watched the kids grow up into the strong, talented, independent human beings that they are."
She also complimented her character: "The opportunity to play Fiona has been a gift. There are few characters — female or otherwise — as layered and dynamic. She is a mother lion, fierce, flawed and sexually liberated. She is injured, vulnerable, but will never give up. She is living in an economic depression but refuses to be depressed. She is resourceful. She is loyal. She is brave. I knew it the second I read the pilot script, this was different, this was special."
"I know you will continue on without me, for now," she concluded. "There is much more Gallagher story to be told. I will always be rooting for my family. Try not to think of me as gone, just think of me as moving down the block."
Shameless premiered back in 2011 and has been a huge hit for Showtime.
Back in 2016, Rossum almost didn't return the show's eighth season unless she was offered more than Macy to make up for the seven years she was underpaid. Luckily, Rossum and Warner Bros. came to terms on a new contract.
Soon after Rossum's announcement, producers and executives released statements wishing the best.
"Emmy Rossum will forever be part of the Shameless family. She has been integral to the show's success, from her wonderful portrayal of Fiona to her leadership role on set, as well as directing multiple episodes of the series. We are hard at work now creating a season nine finale for Shameless which we hope will provide a Gallagher-worthy send off for Fiona that honors the great work Emmy has done," executive producer and showrunner John Wells said. "It is always bittersweet when an ensemble member decides to move out of the proverbial house, but our door will always remain open for Fiona to return home for a visit, or to move back in. I look forward to continuing the stories of this wildly unpredictable family and all of us on Shameless will miss Emmy and her wonderful Fiona."
"We were saddened when Emmy Rossum let us know that the upcoming ninth season of Shameless would be her last. But we are filled with an overwhelming sense of joy and gratitude for Emmy's inspired work on our series, of course in front of the camera but also behind it," said Gary Levine, Showtime Networks president of programming. "Fiona Gallagher will always be one of Showtime's iconic characters, and we applaud Emmy for bringing this character to life in such a natural, touching and fearless performance. On behalf of everyone at Showtime and her millions of fans, we thank you Emmy!"
Warner Bros. Television added: "For eight years and more than 100 episodes, Emmy Rossum has delivered a deeply honest, authentic and unflinching portrayal of Fiona Gallagher, one of television's great characters. We wish her all the best as she explores the next chapter in her career. But before that, we are excited for fans of Shameless to see Emmy and the entire ensemble cast continue the adventures of the Gallagher family in the show's upcoming ninth season."
Season 9 of Shameless premieres September 9th on Showtime.