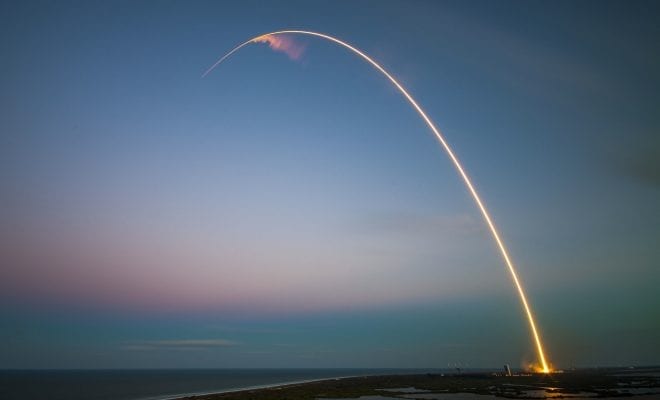 News
SpaceX Launches 60 Starlink Satellites in Plan to Develop Global Internet Coverage
By
|
SpaceX launched 60 Starlink satellites on its Falcon 9 rocket into orbit, bringing them one step closer to developing global internet coverage. Clearly visible in the night sky, the satellites appeared to be a neat row of fluttering lights. The launch took place at Cape Canaveral Air Force Station in Florida, occurring on Veterans Day in commemoration for military veterans. 
The 60 Starlink satellites were tucked inside the nose cone of the rocket. This was the second batch launched into orbit that comprises SpaceX's broadband internet "mega constellation," which the company hopes will help provide affordable internet coverage to the world. 
The majority of internet connections today rely on wireless cell towers or cables routed to homes. This method makes it difficult and sometimes impossible for those living in rural areas to access high-speed internet connections.
Starlink hopes to change all of this, by offering a satellite-based internet network that is affordable and competitive with the major internet service providers. "This will not only provide internet access to areas that don't have it, but provide competitive access to areas that already have connectivity," CEO, Elon Musk said in a media teleconference prior to the first Starlink launch in May.
While this was only the second launch of many, Musk is hopeful that the new network will become available to customers in as few as six to eight more launches. The company says that it could begin offering broadband internet plans to customers as soon as 2020.
While the idea of affordable internet for all is an attractive proposition, there are some that decry the launching of a vast number of satellites into Earth's orbit. Astronomers say that a mega constellation of satellites could have serious negative consequences who require a clear night sky to continue to conduct research of the cosmos. The satellites, which appear to be as bright as stars, make it harder to distinguish between the two at night.
Musk has said that his team at Starlink will do their part to not impede on astronomical research. With thousands of satellites planned for launch, time will tell how much they will affect our view of the night sky.