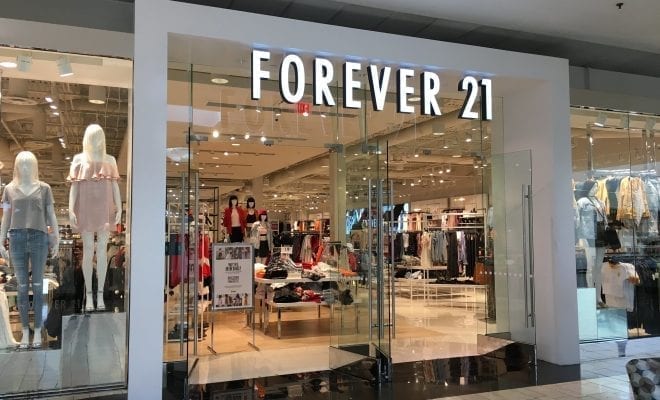 News
Popular Clothing Retailer Forever 21 Files for Bankruptcy
By
|
Popular clothing store among teens and young adults, Forever 21 has announced its filing for Chapter 11 bankruptcy. The chain plans to completely overhaul its business, closing between 300 to 500 stores, including at least 178 within the US. In a letter to customers posted on their website, the company details the decision, also adding that the exact stores to be closed are yet to be determined.
Linda Chang, executive vice president for the company, said the decision to file bankruptcy is a necessary measure to help "secure the future of our company, which enables us to reorganize our business and reposition Forever 21." The retailer made it clear that a significant amount of US stores will remain open, and operations will continue as normal with no changes. 
Forever 21 has struggled with the rise in popularity of online shopping, which has significantly cut foot traffic in malls and brick-and-mortar stores. This, coupled with high levels of debt and rent costs, have made the company join the likes of many other retailers who have experienced similar troubles.
The company was founded by South Korean immigrants Do Won Chang and his wife, Jin Sook. Together, they built one of the most popular fast-fashion retailers in America, offering frequently updated lines and a wide variety of styles at affordable prices. The chain is known for building massive stores, with its flagship location in Times Square fixed with over 150 fitting rooms. 
But while many retailers were scaling back expansion of new stores, Forever 21 continued to build up until 2016. This, however, has come back to bite them, as many younger shoppers are turning to online shopping as their preferred method of buying clothes.
Forever 21 is joined by several other major American retailers, including Payless and Gymboree, both of which have filed for bankruptcy and closed thousands of stores. Even sustainable and well-liked brands like H&M and Zara are experiencing a decrease in the retail sector. This situation is all too common among retailers, with further shutdowns expected to occur before the year is over.