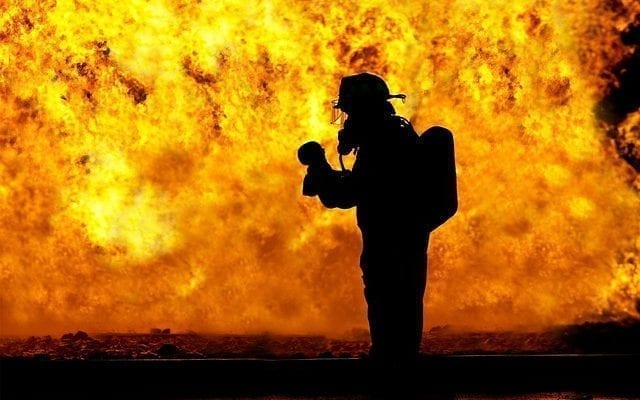 News
Mendocino Complex Fire is Now the Largest Wildfire in State History
By
|
Parts of Northern California are akin to a charred wasteland, as wildfires have incinerated more than 230,000 acres, with the Mendocino Complex blaze now becoming the deadliest in California history. Consisting of two separate fires burning through rural Lake, Colusa and Mendocino counties, this fire has now overtaken last years Thomas fire which destroyed more than 1,000 buildings and killed two people across 440 square miles in Ventura and Santa Barbara Counties.
The deadly blaze began on July 27, and was boosted by a high-pressure system that brought with it hotter, drier, and windier weather to the area, according to the California Department of Forestry and Fire Protection, or Cal Fire. The fire has now destroyed dozens of homes and buildings, with a further 11,000 structures remaining threatened. Scott McLean, a deputy chief with Cal Fire, said, "We broke the record. That's one of those records you don't want to see." Officials have warned that the Mendocino Complex fire has only continued to grow by thousands of acres each day, and even at night, when most fires usually calm down.
"It is extremely fast, extremely aggressive, extremely dangerous […] Look how big it got, just in a matter of days…Look how fast this Mendocino Complex went up in ranking. That doesn't happen. That just doesn't happen," said McLean. There are nearly 4,000 brave fire personnel, including 441 firefighters battling the blaze day and night.
SFGate reported that the areas affected are nine times larger than San Francisco, two times bigger than Chicago, and just about the size of San Antonio, the second-largest city in Texas. As of Monday evening, the River Fire of the Mendocino conglomerate was 51% contained, while the Ranch Fire was only 21% contained, bringing an overall containment of just a little more than 30%.
As of now, there is a mandatory evacuation in effect across Mendocino, Lake and nearby Colusa Counties. The smoke from the fires has produced harmful toxins in the air, leading officials to advise residents to avoid any outdoor activities for the entire week. 
Fire Evacuee Resource List: Click Here
Emergency Operations Call Center: (707) 467-6428
Fire Updates at Mendocino Sheriff's Facebook Page: Click Here