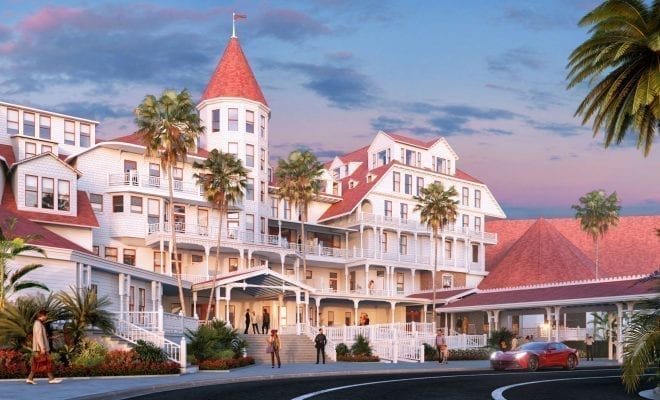 News
Iconic Hotel del Coronado Begins Construction on New Expansion
By
|
The Hotel del Coronado is an iconic symbol in San Diego history, and now, construction has begun to capture a new vision for this incredible structure. A development has started that will include work on preserving, revitalizing, and producing new aspects of the hotel, all of which are slated to be completed by 2021.

Shortly after celebrating its 130th anniversary, the Hotel del Coronado will continue to establish its lasting legacy in San Diego with a $200 million reimagination that will include some incredibly exciting elements. With approvals from the City of Coronado and the California Coastal Commission, the hotel is ramping up to begin the first phase of its Master Plan.

"We have a lot in store for Hotel del Coronado, In 2018 The Del celebrated its 130th anniversary. Now we have the privilege of ushering in this next chapter, in which we rejuvenate The Del's timeless story with restorations and the addition of new, unprecedented experiences that will create memories for generations to come."        



General Manager Harold Rapoza Jr.
The Hotel del Coronado will be restoring its arrival entrance with a brand new landscaped entry with a stunning view of the iconic red turret. The new driveway will be fully landscaped, reminiscent of the Victorian Era. It will also feature a new front facade and wide veranda with two sets of entry stairs.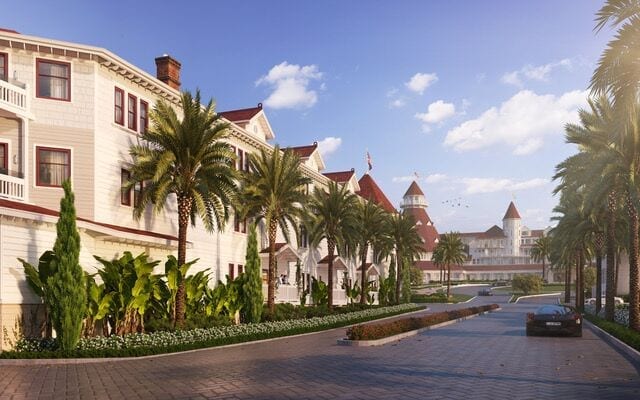 A new conference center will be constructed on the south side of the resort, providing much needed space that will be capable of accommodating up to approximately 800-1000 guests. The facility will feature 15,000 square feet of clear-span ballroom, along with an extra 10,000 square feet for break-out meeting space. The venue will open up to an expansive Great Lawn, with spectacular views of the building.

The hotel will be expanding its accommodations, with 142 new guestrooms, bringing the total property room count to a staggering 898 rooms. These new rooms will feature an array of ocean, bay, pool, and courtyard views, each being crafted with families and groups in mind. Some rooms will come options for fully-equipped kitchens stocked with the latest appliances, as well as indoor-outdoor gathering spaces with a fire feature. Some of the larger suites will be developed as whole-ownership, allowing for a chance to own real estate at this iconic location. In addition, 97 existing California Cabana guest rooms will be receiving enhancements.

As for dining, the Hotel del Coronado will be revitalizing its culinary outlets for 2019. It will be adding a new concept dining experience called Serea, which will open in the summer of this year. Serea will offer a Mediterranean menu that showcases the very best in sustainable seafood and meats for such a cuisine. The indoor/outdoor bar will be upgraded, serving as the focal point for the hotel. The iconic Sun Deck will also be upgraded with a full kitchen and a new 360-degree bar for an elevated poolside experience.

The hotel's Vista Walk outdoor event venue will receive an expansion, giving its guests panoramic views of the Pacific Ocean, while having enough space to host up to 900 guests. Two new underground parking structures will also be implemented, providing plenty of parking space for guests.