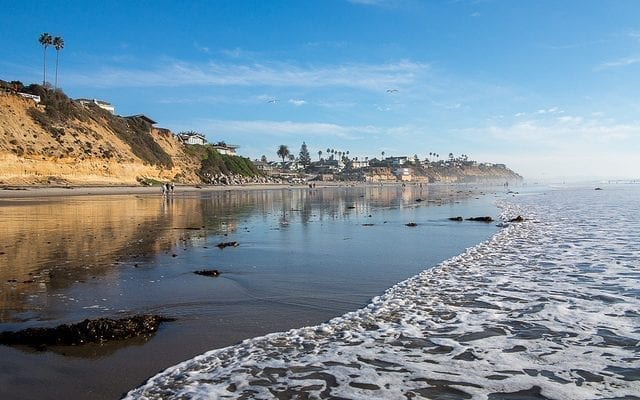 News
Encinitas Cliff Collapse Serves as Warning Sign for the California Coast
By
|
A deadly cliff collapse took place at Grandview Beach in Encinitas late last week, killing 3 women who were all members of the same family. Anne Clave, 35, and her mother, Julie Davis, 65, died at hospitals after tons of sandstone was released from the cliff. The third victim, Elizabeth Cox, Clave's aunt, died at the scene. The victims were there celebrating Cox, a breast cancer, stated in a family email sent to news stations. 
The entire event is a tragedy of the highest degree, and now, experts are warning that this may be a telling sign of the current state of the California coast. These large sandstone bluffs line the coast of California, often serving as supports for prime real estate, are also used by thousands of beachgoers as relaxing areas free from the sun. 
Friday's collapse is a tragic consequence for what is a normal process sea cliffs undergo. The natural erosion process of the sea causes chunks of the bluffs to regularly fall off onto the beach below, so all beach bluffs should be considered unstable to a degree. This sentiment is echoed by Brian Ketterer, coastal division chief for California State Parks. He told the Los Angeles Times "Any of our bluffs have the ability to fail, and people just need to be aware of that."
Cliffs across the coast have continued to show signs of erosion, causing cliffs to become increasingly unstable and less supported at the base. When paired with heavy rainfall and groundwater, it can trigger landslides in weak areas of the cliffs. 
Walking along San Diego beaches, you'll likely see signs dotting the top of cliffs alerting pedestrians that the ground may be unstable. Officials who track falling sediment typically report seeing pieces of sandstone the size of a football on the beach at least once a month. The last fatal bluff collapse in San Diego took place in 2008 when Nevada tourist Robert Mallone was crushed by falling sand and boulders at Torrey Pines State Beach.
The area where the bluffs collapsed is closed to the public, as Encinitas officials say it could still be unstable. The houses that line the top of the cliff are reported to not be in danger.