News
Believe In Yourself gives girls new dresses in time for Valentine's Day dances
By
|
A group of excited girls in Encanto, San Diego, received new dresses courtesy of a non-profit called "Believe In Yourself." In addition to the dresses, the girls received classes and lessons in empowerment and positive body image from speakers present at the event. The event was put on by Sam Sisakhti, who founded Believe In Yourself. For the past year, he has been going around to cities around the country, giving out never worn designer dresses to underprivileged girls.
At this particular stop for Sam, these dresses would be going to girls who would be wearing them at their upcoming Valentine's Day school dance. More than a dozen girls ages 11-13 from the local Boys and Girls Club lined up and watched the gorgeous dresses being laid out along the table, knowing full well they'd be leaving with one of them. Each of them received a brand new dress to wear. Dr. Tracy, a local psychologist, also spoke about how behavior on social media can contribute to maintaining a healthy body image and outlook on life. Sam hopes that the words given to them by Dr. Tracy will stay with them as they continue to grow and experience life.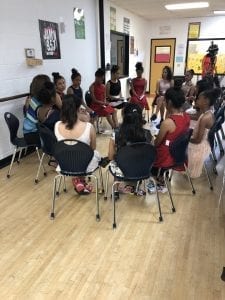 Sam said he "likes to see their reactions when the girls see the dresses." Sam has gone into low-income areas across the country, and given out free dresses to girls. He told ABC 10 News, "they'll actually send me what they're looking for, and we'll try to accommodate their size and style that they like and bring it in." At the event in Encanto, the girls choose numbers at random from a cup, and once they got their number, they could go shopping among the dresses that were laid out.
The Believe In Yourself mission is to "Empower. Inspire. Give." They aim to empower young teen girls who are up against the unobtainable social standards that are often placed upon-them in today's age, which they say are not only unaffordable, but also unhealthy. Believe In Yourself hopes to make every young woman they meet feel confident of themselves, no matter their physical appearance or financial standing.
Since the start of Believe In Yourself, Sam has been able to give thousands of dresses to girls, and hopes to donate 10,000 dresses this year alone. When asked what his plans are for Believe In Yourself, and Sam said, "Short term: I hope to visit 30 states this year and expand the program beyond just bringing in mentors and speakers to the donations." Sam hopes to transform the program into offering "weekly meetings in various cities across the country as well as online seminars available to girls anywhere."
Sam hopes that in the future, Believe In Yourself will "..have physical locations set up in various cities which will be a place for girls to get dresses for special occasions and receive mentoring throughout the school year."
If you want to get involved with Believe In Yourself, you can visit their website to sign up to donate dresses. They also are seeking community leaders and speakers to give a voice to their cause if that is something you would like to get involved in. If you want to make a cash donation, they accept several forms of payment on their website.