Courtesy of Sony Pictures
Movies
"Spider-Man: Far From Home" Movie Review
By
|
Marvel's domination this year is not ending with "Avengers: Endgame."  "Spider-Man: Far from Home" is expected to have one of the highest opening weekends of the summer for any movie, not just MCU.  The best thing about it is that there couldn't have been a more perfect movie that would close out the gigantic Infinity Saga and begin anew the next phase of the superheroes universe.
'Endgame' marks the end of an era, one that begins with Iron Man/Tony Stark (Robert Downey Jr.).  His legacy continues to loom large.  Peter Parker/Spider-Man (Tom Holland, "The Impossible") returns to a world forever changed by the aftermath of 'Endgame,' which is dubbed humorously here as the five-year blip.  When the evaporated half of the universe snapped back into existence, 'Far from Home' deals with it from a ground level, yet in a surprisingly lighthearted way.
Spider-Man is showered with adoration from high school fans. He might have tussled with fellow Earth's Mightiest Superheroes ("Captain America: Civil War"), gone into space ("Avengers: Infinity War"), and fought Thanos ("Avengers: Endgame"), but at the end of the day, Peter is just a nerdy high school kid.
While the people who were turned to dust by Thanos returned the same age, the world was moving on without them. Imagine if your younger brother is now older than you. Or you may be 21 on paper and can legally drink, but in reality, you're still 16. And that scrawny little kid you knew back then has grown into a handsome and buff fella, competing for the affection of the cool girl you like.
All Peter wants to do is a break from saving the world, take a vacation to Europe with his schoolmates, and find the right opportunity to tell MJ (Zendaya, "The Greatest Showman") how he feels about her.
Alas, it doesn't work that way. As a matter of fact, the stern Nick Fury (Samuel L. Jackson, "Kingsman: The Secret Service") is hot on his trail and Peter should know better not to ghost him, as Happy Hogan (Jon Favreau, "Iron Man" series) cautions. Happy and Aunt May (Marisa Tomei, "Spider-Man: Homecoming") are more than happy to spend time together, which also adds a bit more complication into Peter's life.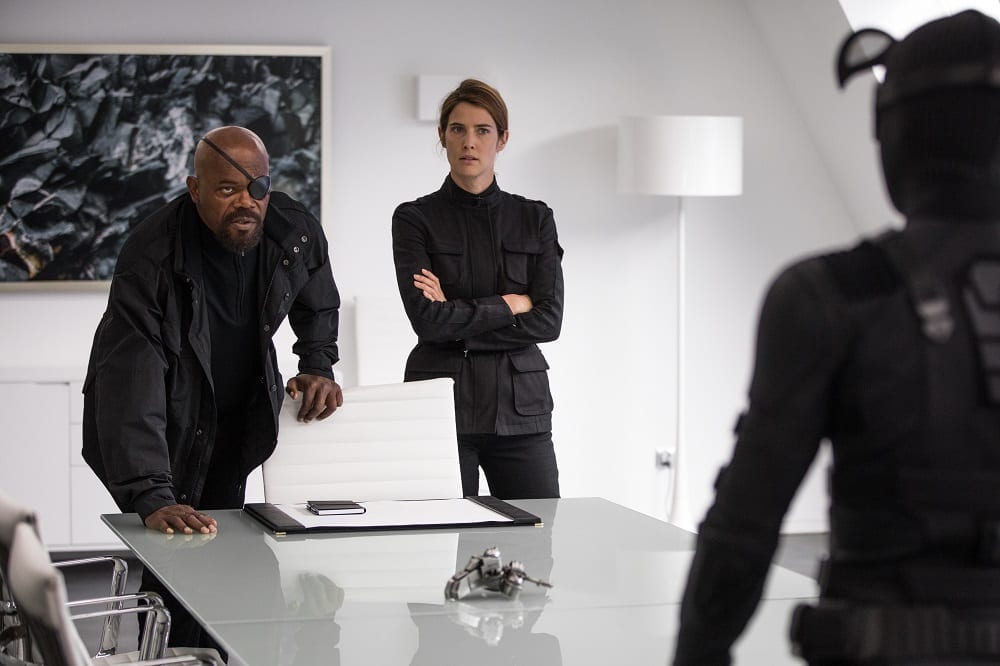 From the start, 'Far from Home' continuously pokes fun at itself and is charmingly self-aware.  The humor is nonstop and off the charts.  From the moment Peter and friends stepping on the plane, plans radically changing (read: the Fury Effect), arriving in Venice, detouring to Prague, and ending up in London; they are absolutely riotous.
The hilariously precarious situations they find themselves in and their wide-eyed interactions will have you in stitches. There's also an adorably awkward teen romance, which is sweet and funny. Peter's friends, Ned (Jacob Batalon) and Betty (Angourie Rice) dole out some of the goofiest scenes.
It doesn't mean 'Far from Home' is without serious superhero business though.  Nature monsters called the 'Elementals' wrecked havoc cities.  Even as a mysterious caped figure, Mysterio/Quentin Beck (Jake Gyllenhaal, "Source Code"), swoops in and saves the day, he needs Spider-Man's aid.  From Peter's side, he finds comfort and guidance in their chats, like the dilemma of having great power and great responsibility, and also wanting an everyday life as a teenager.
There's more to Mysterio than meets the eye, however, and Gyllenhaal is killing it.  When the real villain emerges, it's a head-scratching twist.  The movie is abound with action and plenty of Spider-Man's aerial acrobatics.  Tony Stark didn't just gift Peter an upgraded suit.  An artificial intelligence glasses is front and center in the movie's high-tech plot.  In the end, Peter realizes that he must step up to the plate and be the kind of hero his mentor knew he would be.  Holland shows a range in those defining moments.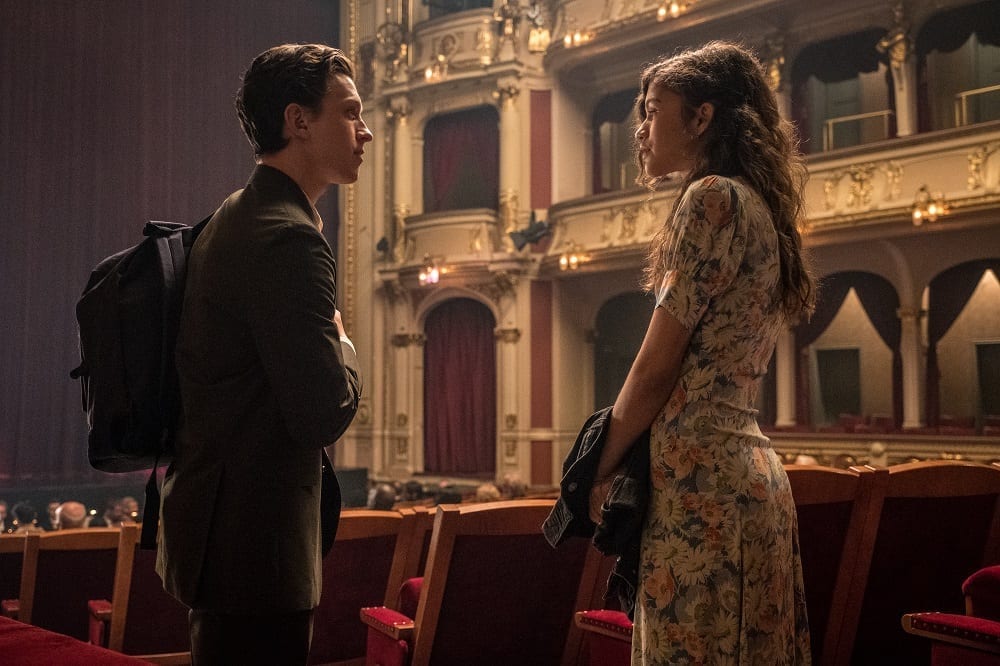 Be sure to stay through the end credits. Game-changer is the word and it will be intriguing swinging forward.
There's so much joy to behold. Refreshingly uproarious and smartly twisty, "Spider-Man: Far from Home" is exhilaratingly entertaining.
Copyright (c) 2019. Nathalia Aryani.