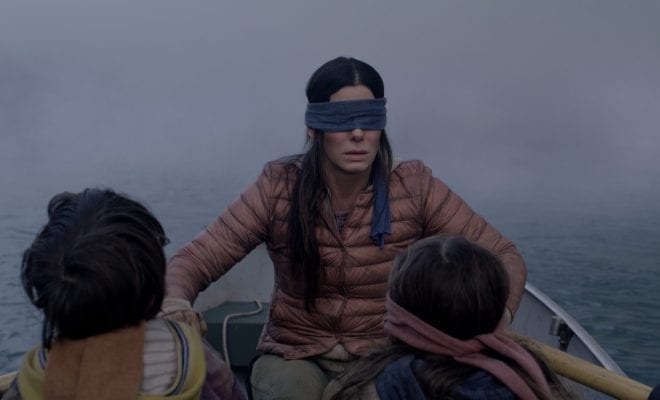 Movies
Netflix Thrillers You Have to See
By
|
Netflix has an extensive catalogue of exceptional movies, but we've all found ourselves searching through endless titles taking forever to find something to watch. If you are in the mood for some heart-pounding thrillers, let us help you save some time searching for one, as these Netflix thrillers should be your go-to for your next movie sesh.
Wheelman (2017)
This claustrophobic thriller is a movie that truly personifies the meaning of a heart-pounding film. Following a nameless getaway driver that receives a call from his handler instructing him to ditch his bank robbing associated after the money is loaded into the car, we are thrust into a seemingly endless game of cat-and-mouse, encountering violent standoffs and drug-dealing psychos. Wheelman is a smart and high-octane thriller that is chock full of exceptional performances and exciting twists.
Shimmer Lake (2017)
A mind-bending thriller that details a fragmented story of criminals who seemingly can't stop themselves from messing up. The film does away with traditional storytelling, instead starting at the end and working its way toward the beginning. No need to worry if this sounds gimmicky either, as performances by Benjamin Walker and Rainn Wilson carry this exciting film through to the end, or the beginning?
Small Crimes (2017)
Look, if a film has Game of Thrones star Nikolaj coster-Waldau in it, sign me up. In Small Crimes, he plays Joe Denton, a corrupt cop that is recently released from prison after seriously roughing a local DA. Now, as a free man, he faces mounting pressure from all aspects of his life, all the while being coerced to murder a local gangster. Small Crimes is filled to the brim with all the scandals, twists, and deception that any thriller fan could ever want. 
Bird Box (2018)
While some may say Bird Box borders on the horror genre, we say it perfectly straddles the line. After an unknown force prompts millions to violently take their own lives, the survivors of the world are forced to live in an apocalyptic nightmare where one wrong choice could mean the ultimate price. An all-star performance by veteran Sandra Bullock drives this movie, and the overall refreshing blend of terror and suspense makes Bird Box a top thriller pick.
Gerald's Game (2017)
This Stephen King adaptation is a top pick for your next thriller movie night. When husband and wife Jessie and Gerald go off on vacation to a secluded location, they engage in some adult fun when Gerald suddenly dies of a heart attack, leaving Jessie handcuffed to the bed with no hope of rescue. Gerald's Game is a slow descent into a pit of despair, and truly conveys the seemingly hopeless nature of a person that is doomed.
Hush (2016)
A deaf woman who lives alone in the woods becomes terrorized by a psychotic killer in a mask. While he believes her to be an easy target, it becomes evident that she isn't going to go easy. Playing on the unique aspect of her being deaf, Hush has some incredibly tense scenes devoid of any sound, ultimately increasing the thrills to penultimate heights.
Hold the Dark (2018)
When a wolf expert named Russell Core is invited to a remote of Alaska to help hunt down the wolves who are seemingly responsible for the deaths of three small children, it quickly becomes apparent there is a more sinister aspect at play. As bleak as they come, Hold the Dark is an expertly crafted shadowy thriller that conveys an impending sense of doom.