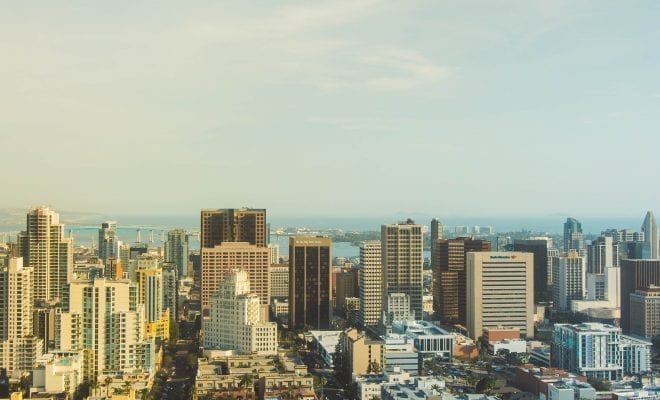 Movies
Made in SD: Top 5 Movies Filmed in San Diego
By
|
San Diego may not be as recognizable on the big screen as say, New York or Washington, D.C., but that also means it's less likely to be obliterated by aliens, terrorists, or major natural disasters like those East Coast metro areas seem to experience way too often. We have had our share of movie moments, though; according to the San Diego History Center, more than 500 movies and 300 TV shows have been made or at least set here, including the very first Edison film to be shot and shown on the West Coast in 1898.
There have been Westerns, war/military movies, monster movies, mysteries and romantic comedies. Some films focus on one recognizable location, such as Balboa Park and Hotel Coronado, and others take viewers through the water and the city.
Here are five memorable films that are worth another viewing:
Anchorman
Who would have guessed that a movie about a chauvinistic TV news team in the 1970 would instill so much city pride? Will Ferrell plays the top dog on the local evening news, but when he accidentally insults the whole city on a live broadcast, the population lets him know they won't put up with that kind of treatment. He's quickly banished until an emergency anchorman is needed to cover the birth of a panda at the zoo. You stay classy, San Diego.
AI – Artificial Intelligence
Where "Anchorman" was set in the past, this 2001 picture starts in the near future and shows viewers what San Diego could look like, all through the eyes of a human-looking robot designed to take the place of a deceased little boy in a human family. But what happens when he's designed to last forever and his family isn't? The world of tomorrow isn't necessarily as bleak and dirty as some of the other scary post-apocalyptic wasteland films, but it still is a cold, sterile place, at least for robots. The movie does raise some good questions about whether machines can truly think and feel.
Top Gun
This 1986 film about the elite Navy fighter pilots helped boost the career of Tom Cruise and likely also served as a great recruitment tool for the military. Sure, much of the action took place in the sky with amazing jet maneuvers, but Mr. Cruise and the fellow flyboys were also based in San Diego – and also went out on the town for occasional R&R. If you haven't heard, a sequel is expected in 2020, "Top Gun: Maverick," for those who never stopped having a need for speed.
The Lost World: Jurassic Park
How do you top the dino-tastic blockbuster, "Jurassic Park"? Universal/Amblin put in a good effort in 1997 by starting at the island from the first film but then moving to San Diego. They also brought along an angry mama T-Rex who is trying to find Baby Rex. As expected, the big one gets loose and rampages in our unsuspecting city. If we learned one thing, it's that lots of backyard pools mean plenty of watering holes for thirsty reptiles. There have been three more Jurassic flicks since then, but none where the city played a starring role.
Almost Famous
Filmmaker Cameron Crowe blends coming-of-age adventures, music journalism and classic rock into one satisfying and poignant piece, showing a teen's efforts in the early 1970s to document and travel with an up-and-coming new band for Rolling Stone magazine. Some of it actually happened to a young Crowe, some is pure fantasy, but it does give viewers a nostalgic look at Ocean Beach, Balboa Park and USD High School – plus a memorable soundtrack.