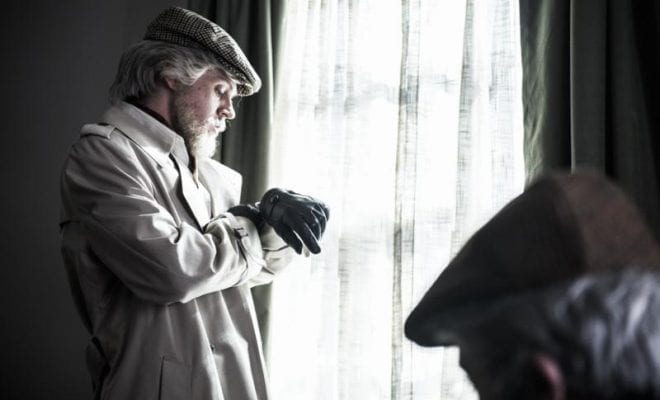 Credit: Kirsty Griffin. Courtesy of STXfilms
Movies
Movie Reviews: "American Animals" & "Adrift"
By
|
"American Animals"
Amid the cornucopia of summer blockbusters this month ("Ocean's 8," Incredibles 2," "Jurassic World: Fallen Kingdom"), along came a phenomenal little film called "American Animals." The title is unappealing, but there's a reason why it's titled that way.
This is a true story of four American college students at the University of Transylvania, Kentucky who planned a robbery of rare, exclusive books in the university library in 2004. The crown jewel is the first edition of John James Audubon book, more like a collection of his paintings of birds, worth a cool $12 million.
Yearning for adventure, excitement and dramatic change in their mundane, midwest lives, the young men plot to pull off the outrageous heist.  The college bandits are composed of  leader-planner/athlete, Warren Lipka (Evan Peters, "X-Men: Days of Future Past"); number two-idea man/artist, Spencer Reinhard (Barry Keoghan; numbers/logistics man, Eric Borsuk (Jared Abrahamson), and entrepreneur/getaway driver Chas Allen (Blake Jenner, "Supergirl").
The filmmaker cleverly intersperses the scenes with interviews with the real-life robbers and some of the people in their lives at the present time. They show the dynamics of the relationships, different accounts of what happened, thoughts, doubts, confessions and aftermath. Our lives are a collection of choices. There are moments where you know you may make a life-altering choice; this is when you get to decide. While the aftermath is known from the start, the trip to get there is riveting. The day of the robbery, underscored with a pulse-pounding score, tensely plays out like a ticking bomb.
Co-distributed by MoviePass (if you don't have it, you've missed out!), "American Animals" is a hybrid, crime docu-thriller that is stranger than fiction.
***
"Adrift"
In 1983, Tami Oldham (Shailene Woodley, "Divergent" series) is a free-spirited 23-year old who left her San Diego home and arrives in Tahiti. She works odd-end jobs to make ends meet, earning enough to fund her next trip. She meets a British sailor, Richard Sharp (Sam Clafin, ("The Hunger Games" series), who considers the open seas his home. Their mutual wanderlust brings them close and they fall in love.
When an older couple offers them a job to sail their luxury sailboat to San Diego for a $10K and first-class tickets, they set sail for a trip of their lives. A hurricane nearly sinks the sailboat and the uneventful trip becomes a survival story. Richard is severely injured and it's up to Tami to care for him, ration food and water, fix the sailboat and get them to safety. Stranded, scared, sun-burned, starving and dehydrated, the wounded novice sailor decides to change the course from San Diego to Hawaii, closer but still a journey of 1,500 miles.  If she misses Hawaii, there would be no other land until Japan.
Director Baltasar Kormakur ("Everest") parallels the couple's struggle to survive and being adrift with their courtship, the carefreeness of a young love in a tropical paradise filled with sea breeze and romantic sunsets.  If the constant flashbacks break the dramatic momentum, there's a reason for the structure. A nifty twist makes it effective in the end.
Since the film is based on a true story, it's best to go in without knowing anything. Among the summer blockbuster movies, "Adrift" floats swimmingly as a woman vs. nature and love story.