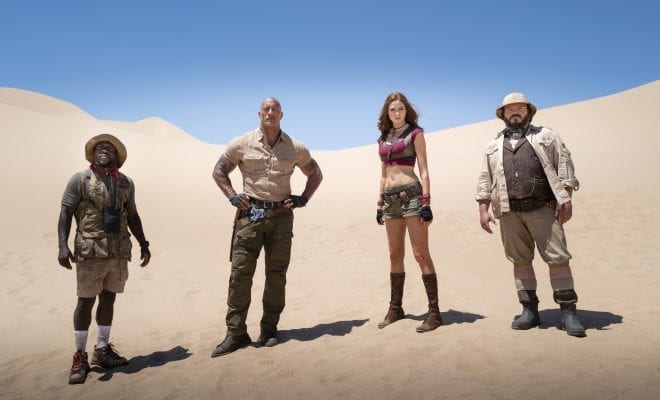 Photo Credit: Hiram Garcia © 2019 CTMG, Inc. All Rights Reserved.
Movies
Movie Review: Jumanji: The Next Level
By
|
Jumanji Steps It Up in The Next Level
With the return of the enjoyable main cast, and added bonus of Danny DeVito, Danny Glover, and Awkwafina, Jumanji: The Next Level is an entertaining twist on the original — and surprisingly funnier than expected.
When Spencer (Alex Wolff) goes back into the fantastic world of Jumanji, pals Martha (Morgan Turner), Fridge (Ser' Darius Blain) and Bethany (Madison Iseman) re-enter the game to bring him home. But the game is now broken — and fighting back. Everything the friends know about Jumanji is about to change, as they soon discover there are more obstacles and more danger to overcome.
Two years ago when Sony first announced that that they were gonna give Jumanji the reboot treatment with Jumanji: Welcome to the Jungle, it was a big surprise and no one was really clamoring for. However, Welcome to the Jungle ended up having a pretty interesting premise: four teenagers from different social groups inhabit the bodies of avatars – played by Dwayne Johnson, Karen Gillan, Kevin Hart, and Jack Black – who then have to act like the teenagers.
The new film Jumanji: The Next Level does things a little bit differently. Director and co-writer Jake Kasdan doesn't put them all back in the same bodies. Martha still becomes Karan Gillan's Lora-Croft badass, while Fridge now inhabits Jake Black's map-reader, and Johnson and Hart are now "played" by Danny Devito (Grandpa Eddie) and Danny Glover (Milo Walker), who get sucked into the game. Johnson is so spot-on with his imitation of Devito's' rasp, while Hart perfectly imitates Glover's politeness. That's only the beginning, as the film goes further into body-swapping and introduces Awkwafina as another avatar, among other things but that's spoiler territory.
The Next Level could quite possibly outdo its predecessor. Hart has a funny gag about the leisurely pace of Milo's speech, which is just hilarious. But what really is hysterical is watching Johnson scrunch up his face and bark "HUH?" in confusion, suggesting Grandpa Eddie either has a hearing problem or just pretends to.
Kasdan knows how to enhance the strengths of his cast to great effect, and it shows especially with how great the cast's chemistry is. However, the plot of the film becomes somewhat familiar, but with new characters and an added body-swapping twist helps keeps things interesting.
Overall, the Jumanji franchise manages to pull off another entertaining installment with The Next Level, which is is a lot more anxiety-inducing than the first as the stakes become much higher this time around.