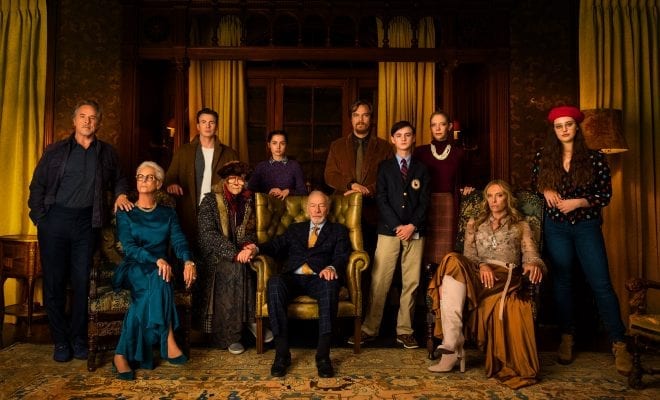 Photo credit: Claire Folger © 2018 MRC II Distribution Company L.P.
Movies
Movie Review: Knives Out
By
|
In the evening after the celebration of his 85th birthday, a famed crime novelist Harlan Thrombey (Christopher Plummer) died with a slit throat.
While police investigators, Lieutenant Elliott (Lakeith Stanfield) and Trooper Wagner (Noah Segan), conclude the wealthy patriarch's death as suicide, an acclaimed private investigator, Benoit Blanc (Daniel Craig, "James Bond" series) suspects a foul play. Craig's role models the mustache-twirling, notable detective from the "Murder in the Orient Express." Playing against type, he's so different from James Bond, over-the-top with thick Southern accent and penchant for theatrics.
Everyone in the dysfunctional family, privileged and entitled, is a suspect. Brooding youngest son and Harlan's head of publishing empire Walt (Michael Shannon, "Man of Steel"), his wife Donna (Riki Lindhome) and their teenage son (Jaeden Lieberher); gold-digging lifestyle influencer and widow daughter-in-law Joni (Toni Collette) and her teenage daughter Meg (Katherine Langford); eldest daughter and hard-edged businesswoman Linda (Jamie Lee Curtis), her secret-hiding husband Richard Drysadale (Don Johson) and their smarmy brat of a son Ransom (Chris Evans, "Avengers" series). Evans seems to relish playing against his Captain America, do-gooder type. Lurking in the background is great nana Wanetta (K Callan).
Other people outside of the family who work in the manor are Harlan's good-hearted nurse and immigrant Marta Cabrera (Ana de Armas, "Blade Runner 2049") and invisible housekeeper Fran (Edi Patterson). Since the last two have nothing to gain, the investigation primarily centers around the family's surviving offsprings. Make no mistake, however, "the help" shouldn't be cast aside. As a matter of fact, Marta, well-regarded by the family and detective Blanc, plays a key part in the investigation. Her complete inability to lie is both an asset and a liability. Armas is a standout among the star-studded cast.
The story runs sharp and witty with a comedic undertone, making it wickedly entertaining. It's a treat to see the scenes that are first shown in pieces live or at surface level, flashback with details, pulling curtain after curtain behind the scenes.
Rolling back to the night of the incident, bits of conversations and noises were heard and suspicious sightings were reported. Possible motives emerge. But if the shoe fits, it may be the wrong shoe. The will-reading is a chaotic affair. What's unique about director Rian Johnson's storytelling is the cause of death and culprit are already revealed about a third into the story. It leaves the next stretch with cover-ups and flashbacks, then a home stretch of twists, layering the mystery with another mystery before blowing it open with a mind-blowing who(really)dunnit.
A great murder mystery is tightly plotted, drops clues, conceals secrets, misdirects with red herrings, teases resolution, springs surprises, reveals lies, ties up loose ends, and cleverly wraps up with a satisfying conclusion. "Knives Out" does exactly that. The knives are out and they hit the bullseye.
Copyright (c) 2019. Nathalia Aryani