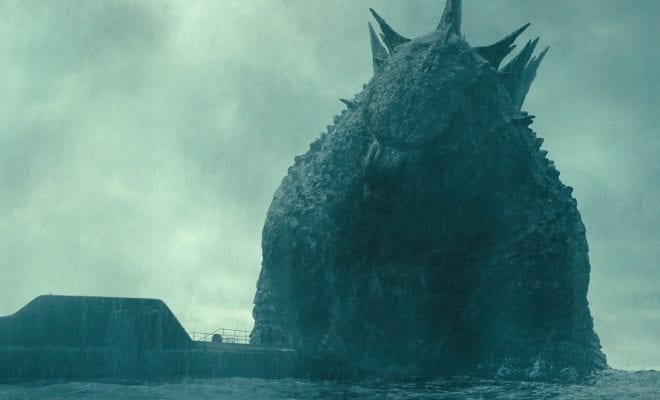 GODZILLA in Warner Bros. Pictures' and Legendary Pictures' action adventure "GODZILLA: KING OF THE MONSTERS," a Warner Bros. Pictures release. COPYRIGHT:© 2019 WARNER BROS. ENTERTAINMENT INC. AND LEGENDARY PICTURES PRODUCTIONS, LLC
Movies
Godzilla Finally Gets The Movie He Deserves
By
|
Godzilla is back and proves that he is King of Monsters!
Members of the crypto-zoological agency Monarch face off against a battery of god-sized monsters, including the mighty Godzilla, who collides with Mothra, Rodan, and his ultimate nemesis, the three-headed King Ghidorah. When this ancient super-species-thought to be mere myths-rise again, they all vie for supremacy, leaving humanity's very existence hanging in the balance.
Godzilla: King of Monsters acts as a sequel to the 2014's rebooted Godzilla and 2017's Kong: Skull Island, with the giant monster research organization Monarch tieing the two films together. The idea to relaunch a new Godzilla-based Monster Universe movie franchise isn't a bad idea, considering the original Japanese franchise consisted of about 30 films. 2014's Godzilla jumpstarted things, and even though the film's main attraction was kept offscreen for most of the film it was still fun to watch and generate some excitement. Godzilla: King of Monsters, however, finally figures out its central figure's true potential. The film is directed, framed and scored the epic magnificence and thundering warning of a soaring classical opera about gods and heroes.
Set five years after its predecessor, King of Monsters has Godzilla battling it out with a bunch of globally impactful mayhem-making monsters, majority of them hiding in secret underground facilities overlooked by Monarch. The movie gets the action going right away and delivers giant monster drama on a scale never seen before, with the action manifesting the most explosive and amazing detail possible. The monster fight scenes look like something out of a poster. Three-headed dragon demolishing entire cities with lightning, flaming bird-like monster erupting out of volcanoes and Mothra (a moth-like monster) hovering in showers of light like an angel descending from Heaven, and Godzilla charging into battle with a squad of fighter jets watching his back is completely breathtaking.
This is, without a doubt, the big budget Godzilla movie that fans have been waiting for and it sure doesn't disappoint. It's uplifted by solid filmmaking craftsmanship and a clever narrative. The performances are top-notch, with Ken Watanabe (Dr. Ishiro Serizawa) reprising his role from 2014's Godzilla and once again becomes the standout thanks to emotionally heavy scenes. Kyle Chandler is the perfect choice for the regular guy and the audiences' POV character and Stranger Things' Millie Bobby Brown shines as his daughter.
Godzilla: King of Monsters is an exhilarating cinematic experience and is definitely The Avengers for giant monsters. It's the perfect example of why its entire genre exists and why we go to the movies.
Critic Rating: 5/5 stars
What did you think of the film? Sound off in the comments.